Galaxy S7 vs Galaxy S5: What Buyers Need to Know
Now that the Samsung Galaxy S7 is official and readily available, buyers are weighing all of their upgrade options. With millions of Galaxy S5 owners passing up the Galaxy S6 for the lack of a micro-SD slot and more, not to mention 2-year upgrades now ready to go, here's how the Galaxy S5 compares to the improved Galaxy S7.
In February, the new Galaxy S7 and Galaxy S7 Edge were released with a very similar look as the Galaxy S6 and S6 Edge, but better in every way. Improved features, bigger battery options, a better camera, micro-SD card, and even IP68 water resistance. It offers everything a Galaxy S5 owner would want in their next phone.
Read: What the Galaxy S7 Tells Us About the Galaxy Note 6
The Galaxy S5 is getting a little old, and the Galaxy S7 now has many of the same features that made the Galaxy S5 so popular to begin with. With that in mind, this comparison will let buyers or those seeking an upgrade know what to expect. Here we'll be examining everything that makes the Galaxy S7 a worthy successor.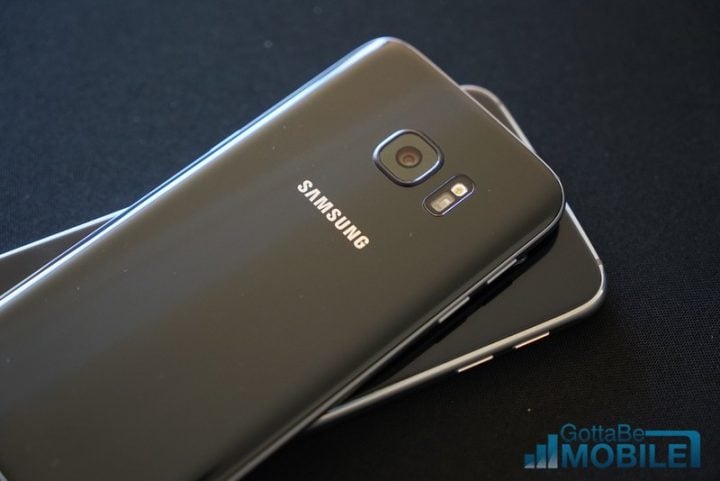 Of course the Galaxy S7 will be a better phone than the Galaxy S5, simply because nearly two years later there has been significant advances in technology. The Galaxy S6 was a worthy upgrade, but many chose not to take that route as they wanted to keep their micro-SD cards, the IP67 dust and water-resistant features, or have a removable battery. All things that went missing from the S6 in 2015.
Well, we have good news. On February 21st Samsung unveiled the Galaxy S7 with a similar yet improved design, a bigger 5.5-inch Galaxy S7 Edge, longer battery life, a new camera, and two key features Galaxy S5 owners are going to absolutely love.
Galaxy S7 Release Date
The Galaxy S7 and S7 Edge were officially released on March 11th, but many buyers received them early. Now, a little over a month later, they're both available from nearly and and all carriers or sources throughout the United States. In March most with the Galaxy S5 were still under contract, but now that it's mid-April we're seeing millions of Galaxy S5 owners looking for their next phone.
Buyers have a lot of choices right now. From the Galaxy S7, a bigger Galaxy S7 Edge with a huge battery, the modular LG G5, or even the HTC 10. Most likely Samsung users want to stick with Samsung, unless the Lollipop update made you curse the Galaxy S5 and Samsung forever. That said, the Galaxy S7 is a great phone that performs excellent, and here's our full review.
Read: Samsung Galaxy S7 Edge Review
Galaxy S7 Design
As you all know by now, the Galaxy S7 looks very similar to the Galaxy S6 from last year. There are a few very subtle changes, as well as a rounded curve to the back edges to make it easier to hold, and feel thinner in the hand. Compared to the Galaxy S5 though, it's leaps and bounds better. The Galaxy S5 is all plastic, and has big bezels to make it durable. The Galaxy S7 is all glass and metal, sleek, and a much more premium smartphone in every way.
In general the Galaxy S7 still looks rather similar to the Galaxy S5, but that's a good thing. Samsung's managed to improve every aspect, add a metal design, improve the internals, camera, and add a bigger battery while keeping their design language and identity in-tact.
Samsung kept the same 5.1-inch 2560 x 1440 Quad-HD S-AMOLED display for the Galaxy S7, and increased the Galaxy S7 Edge to 5.5-inches for those that want a bigger display. The Galaxy S5 only came in one size, and for those who enjoyed it, the Galaxy S7 is perfect. If you want something bigger, consider the Galaxy S7 Edge. The S5 only had a 1080p HD display, while the Galaxy S7 has a Quad-HD resolution for stunning photos, video, games and Netflix. It looks a lot better.
The biggest thing those with a Galaxy S5 need to know about the Galaxy S7 though, are that it's more durable, lasts longer, and has a micro-SD slot again. Something that was sadly missing from the Galaxy S6.
This year the Galaxy S7 has an IP68 dust and water-resistant rating, higher than the Galaxy S5. At the same time there's no flaps covering the ports, and no added thickness. It's really impressive. Old Galaxy S5 users probably have lost the flap on bottom for water resistance too. That won't be an issue with the Galaxy S7.
Samsung also returned the micro-SD slot, up to 200GB, and added a bigger battery. The Galaxy S5 was 2,800 mAh, and oddly the Galaxy S6 was only 2,550 mAh. This year it's huge, coming in at 3,000 mAh with fast charging. Here's more info on the specs for those curious. The Galaxy S7 Edge is even bigger, at 3,600 mAh for the battery. It lasts plenty long, and far longer than the Galaxy S5.
Galaxy S7 vs Galaxy S5: Specs
Being two years newer you can expect a better experience across the board. Everything is faster, better, and improved. Including the battery life. Here are the official numbers right from Samsung.
Galaxy S7 Specs

5.1-inch 2560 x 1440 Quad-HD Display (5.5-inch Galaxy S7 Edge)
8-Core Qualcomm 820 Processor with 4GB of RAM (Samsung Exynos outside the US)
32 GB of storage and Micro-SD for storage expansion.
New 12 "Dual Pixel" Rear Camera with f/1.7 aperture, OIS and more
3,000 mAh battery with Fast Charging, Wireless Fast Charging (3,600 on Galaxy S7 Edge)
Android 6.0.1 Marshmallow with TouchWiz
Fingerprint Scanner for security
IP68 Dust & Water Resistance (5 meters for over 30 minutes)
Flat Design (no camera bulge)
more
As you can see above, the Samsung Galaxy S7 sounds pretty good. It has an improved 5.1-inch Quad-HD display, and returns many of the features Samsung ditched on the Galaxy S6. Powered by a new Quad-core processor with 4GB of RAM, tons of storage, and return the micro-SD slot that made so many pass on the Galaxy S6. If that's why you kept the Galaxy S5, feel confident in getting the new S7 or S7 Edge.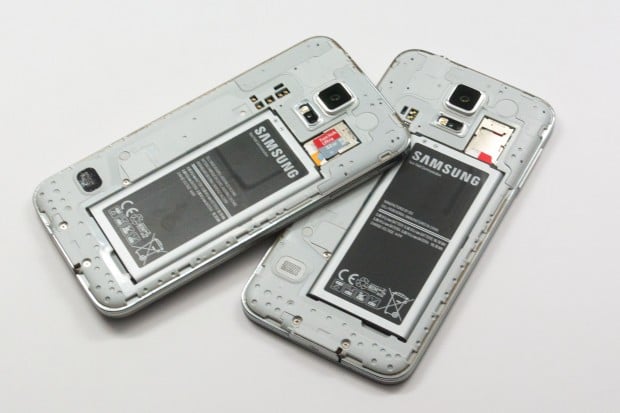 Galaxy S5 Specs
5.1-inch 1920 x 1080p HD AMOLED Display
Quad-core Snapdragon 801 processor with 2GB of RAM
16/32GB of storage with a micro-SD slot for expansion
Currently on Android 5.1 Lollipop
16 Megapixel camera, 2MP front camera
2,800 mAh battery (removable) with QC 1.0 technology.
Swipe-based fingerprint scanner
IP67 dust and water resistant (flap covered USB port)
more
As you can see the Galaxy S7 is a huge upgrade across the board. A lot more power with the new processor and 4GB of RAM, the latest Android 6.0.1 Marshmallow software, a bigger 3,000 mAh battery with Quick Charge, wireless charging, and even fast wireless charging. The S5 takes nearly two hours to recharge, while the Galaxy S7 will recharge from 0-100% in under 90 minutes, and go from 0-50% in just 25 minutes using Quick Charge 2.0 technology, or Adaptive Fast Charging. That's big. This means it lasts forever, and recharges so fast that users won't even need to worry about swapping out the battery when it runs out. Just drop it on the charger for a few minutes driving home. Not having a removable battery really isn't as big of an issue as it was in 2014.
Galaxy S7 vs Galaxy S5: Camera
The only "lower" spec on a sheet while comparing the two is the 12 megapixel camera. However, the new camera in the Galaxy S7 takes amazing photos and video whether indoors or outdoors, has optical image stabilization, a fast f/1.7 aperture for fast shutter speeds and auto focus. Megapixels aren't everything, and this 12 megapixel "Dual Pixel" camera will be far better than the old 16 megapixel camera on the Galaxy S5.
Samsung's using technology found in many DSLR cameras. The Dual Pixel sensor is a first for any smartphone. It uses all 12 million pixels to auto-focus, while most only use about 5% of the pixels to focus, which is why it's so slow. It also has a fast f/1.7 aperture and a sensor that's much bigger and captures over 95% more light in less time, than the Galaxy S5. Add image stabilization and photos or video will be incredible. Indoors, outdoors, at night, and more will all be impressive.
If the Galaxy S5 camera isn't doing good enough anymore, you'll want Samsung's new phone. And that 2 megapixel front camera is awful. Samsung's Galaxy S7 has an excellent 5 megapixel f/1.7 wide-angle front camera that takes quick and perfect selfies.
Galaxy S7 Battery Life
The Galaxy S5 had a decent 2,800 mAh battery and first generation Quick Charge 1.0, which let it recharge in around 2-3 hours. The battery also lasted for a decently long time too. However, in two years a lot has changed. The screen, processor, and software are all more efficient, meaning the same 2,800 mAh battery would last longer. But Samsung added a bigger one, faster charging technology, and even fast wireless charging.
As we said above, Samsung completely fixed any battery complaints people had about the Galaxy S6, which may have caused some S5 owners to skip it. With a huge 3,000 mAh battery and 3,600 in the Galaxy S7 Edge, these should last longer than any Samsung Galaxy S to date.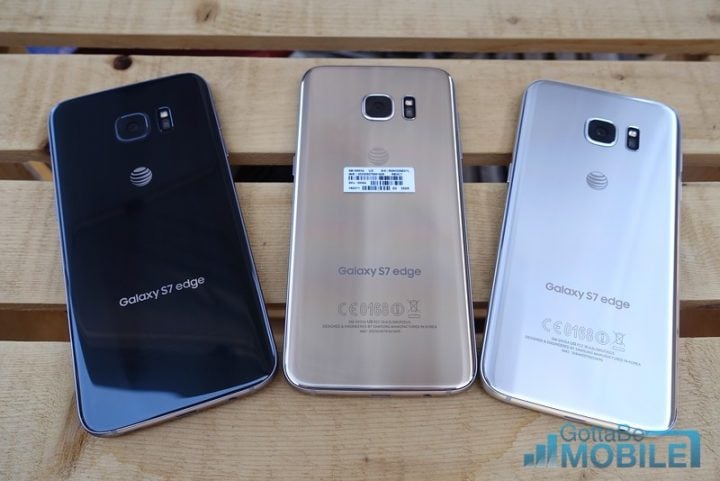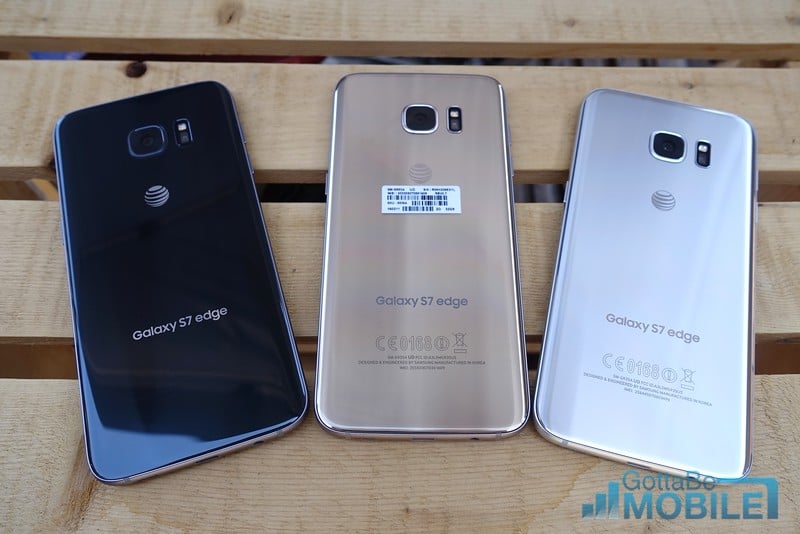 The Galaxy S7 has Quick Charging, which recharges the phone from 0-50% in less than 25 minutes, and fully recharges in about 80-90 minutes. Samsung also employed a similar Fast Wireless Charging technology as the Galaxy Note 5.
Carriers, Pricing and More
The Galaxy S7 and S7 Edge were released on March 11th, and are pretty expensive. However there are great Galaxy S7 deals floating around, payment plans, or even 2-year contracts.
Carriers no longer offer the Galaxy S5, as it's rather old, and even the S6 is hard to find from some carriers. And while that's a decent phone too, the S7 is the best of both worlds. The stunning design, with all the features users loved about the Galaxy S5, and more.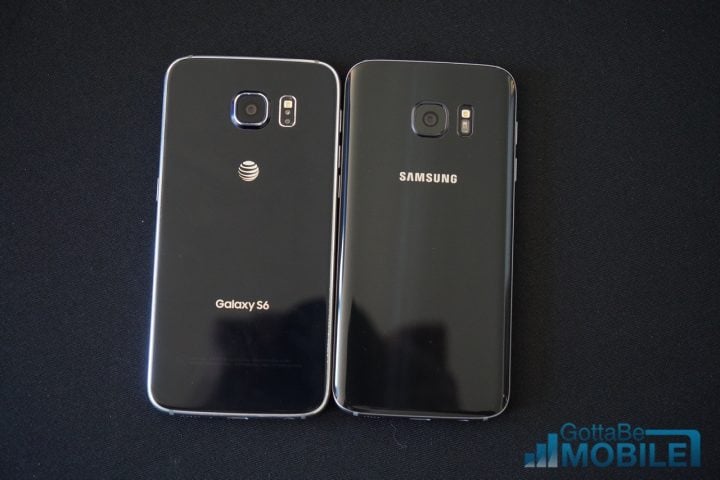 The Galaxy S5 was $199 with a new 2-year contract and only had 16GB of internal storage and cost over $500 new. Things have changed since then and the base is 32GB and most carriers have monthly payment plans instead of contract. If your two-year Galaxy S5 contract is almost up, most carriers will be more than happy to switch owners over to the newest model. Buy one today at any of the carriers mentioned below.
Samsung or carriers are currently charging $680 (or so) for the regular S7 and the S7 Edge is $760 or more. Sprint is asking the least, while AT&T is cheaper on a month-to-month basis. Make your choice.
AT&T: Galaxy S7 is $23.17 per month for 30 months = $695.10
Verizon: Galaxy S7 is $28 per month for 24 months = $672
T-Mobile: Galaxy S7 is $27.91 per month for 24 months = $669.84
Sprint: Galaxy S7 is $27.09 per month for 24 months = $650.16
US Cellular: Galaxy S7 is $28 per month for 24 months = $672
The Edge model is only a few dollars more per month from each carrier, which ends up putting the total price a little over $750 for Samsung's new 5.5-inch flagship water-resistant smartphone. This is the option we'd recommend most buyers take, if the size isn't an issue.
At the end of the day all Galaxy S5 owners really need to know is that the Galaxy S7 will be a worthy replacement. It's better in every way, shape or form, has excellent battery life and super fast charging. With a better screen and premium IP68 rated design, stunning camera, micro-SD and a big battery, it's more than you'll need and looks to already be one of the best phones of the year.