Gameloft Duo Gamer Review: Few iPad Games and Poor Battery Life
Gameloft makes some of the most popular iPad games, including Modern Combat 3, N.O.V.A. 3 and Asphalt 7: Heat. These games work with the Duo Gamer, bringing Xbox or Playstation gaming control to the touchscreen.
The Duo Gamer retails for nearly $40, but buyers can get it for less at Amazon ($36.95) or Best Buy ($32.99). We played a number of the Gameloft games with the Duo Gamer and love the idea of a physical controller for the iPad, but not Gameloft's execution.
To review this product we brought in a guest reviewer: my 15-year-old son Daniel, who plays a lot of games on his iPad mini. In fact he asked me to review it so that he he could get his hands on the device.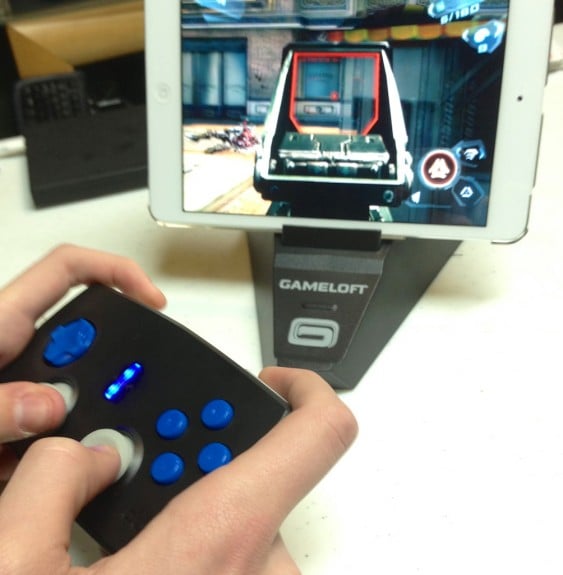 Playing the Duo Gamer Games
Gameloft offers a small collection of compatible games including the following:
Asphalt 7: Heat – $.99
Brothers in Arms 2: Global Front – Free with lots of in-app purchases
Modern Combat 3: Fallen Nation – $6.99
N.O.V.A 3 – $6.99
Order & Chaos Online – $6.99
NFL Pro 2013 – Free with lots of in-app purchases
Real Soccer 2013 – Free with lots of in-app purchases
Wild Blood – $6.99
We enjoyed playing Asphalt 7: Heat, Wild Blood and Modern Combat 3 the most. Brothers in Arms 2, NFL Pro 2013 and Real Soccer 2013 follows the long list of games that players won't enjoy playing without too many in-app purchases, a trend in iOS games that we hate. Since the Duo Gamer only works with eight games, and three of those games suffer from this horrible trend, we find the Duo Gamer less enjoyable.
Modern Combat 4: Zero Hour ($6.99), one of Gameloft's most recent games, inspired my son to check out the Duo Gamer. Unfortunately, the game doesn't work with the controller. Gameloft promised to add compatibility eventually. We think Gameloft should include Duo Gamer support in all of their action games from now on, if they want users to invest nearly $40 on the controller.
The Duo Gamer gives users the feel of playing on console, but there's less precision than an a console controller. People who dislike touchscreen controls in action games may prefer the Duo Gamer, but it won't make game controls more precise than the touchscreen controls. My son missed the fine movements he gets from his Xbox controller.
Duo Gamer Design and Quality
Playing games with the Duo Gamer feels physically more like using an Xbox or Playstation, but the material used to make the Duo Gamer doesn't measure up in quality. Those wireless controllers on Xbox or Playstation cost between $10-$25 more than a Duo Gamer, depending on the store, so we're not surprised.
The battery life of the Duo Gamer left us wanting. Two AA batteries failed after 6-8 hours of heavy use the first night my son started playing with the Duo Gamer. As a result the Bluetooth connection dropped in the middle of a game. There's no power indicator to warn the user to switch batteries before starting a new game.
The included stand for the player's iPad works okay with the iPad mini, but for the larger iPads feels unstable. A slight tap will often cause the ten-inch iPad to fall off the stand. Daniel just put it aside and never used it again after the first few minutes of play.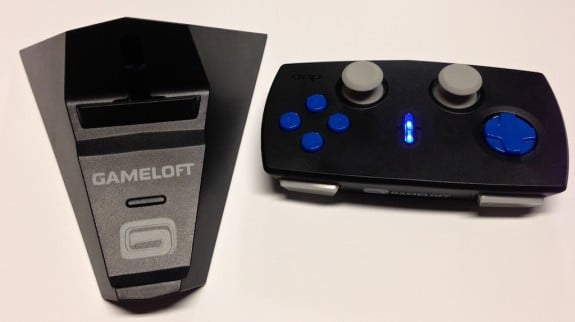 Our Recommendation
The Duo Gamer only supports eight games and Gameloft ruined three of those by requiring players to pay their way through much of the game with in-app purchases. With more game support, we'd forgive the plastic feel, poor battery life and lack of power indicator. Hardcore players of the above listed games will enjoy the Duo Gamer. Others should wait till Gameloft adds more support to a longer list of titles.
When asked if he would spend his own money to get a Duo Gamer, my son said he wouldn't.

As an Amazon Associate I earn from qualifying purchases.