GameTanium Brings Subscription Gaming to Android Phones, Tablets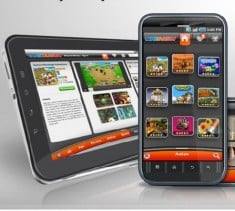 Similar to what Netflix did for movies, GameTamium is hoping to do the same with mobile gaming. The subscription-based mobile gaming service costs $5 per month and is compatible on Android smartphones and tablets. Rather than have gamers pay a la carte per game title, players will now have unlimited access to GameTamium's catalog of games titles as long as they maintain an active monthly membership.
Currently, the service has 75 game titles in its catalog and GameTamium hopes to bring that number to 200 by the end of the year.
It's unclear how successful the service will become given the low cost of games on mobile platform along with free and ad-supported titles. Casual gamers will probably stay ahead with the occasional purchase of a new title or two rather than maintain an active membership while gamers who like variety may do well with this model. Obtaining a membership can provide also a cheap, useful way to 'trial' games for a short membership duration before users decide to purchase titles that are noteworthy or relevant to them.
Via: Androinica

This article may contain affiliate links. Click here for more details.