GBM Shortcut: Atek OnBoard Travel Keyboard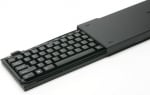 Several weeks ago we brought you news about Atek's new "mobile" solution, the OnBoard Travel Keyboard. We got our review unit in a few days ago, and in this GBM Shortcut I share my impressions about Atek's mobile solution. To learn if this keyboard might be for you, checkout our video below.
The Atek OnBoard Travel Keyboard is available for $29.95.
Update: The Atek folks let me know that the keyboard cover can be used to tilt the keyboard up. It is still too big for me to use as a mobile keyboard, but this is good to know.
If your company is interested in sponsoring our GBM Shortcut videos, send an email to [email protected]