What's In My Gear Bag: How Much Can A Geek Girl Stuff In Her Not-A-Purse?
Like the rest of the crew here at GottaBeMobile I'm always intensely interested in what gadgetheads carry around with them every day. It's like book lovers with other people's bookshelves. Getting a peek inside the gear bag gives some insight into a person… or a reason to be really judgmental. Either way, being the new kid on the block, Xavier asked me to share what I carry. You can decide what all this stuff says about who I am.
For everyday, on-the-go computing, I still favor a netbook. And my favorite netbook is still the Samsung NC10. Other netbooks have tempted me, but I haven't found a compelling reason to give up my baby. The keyboard is great, the screen size good enough for writing and editing, and it has enough power in the old Atom chip for most of what I need to do.
I will admit that I am pondering the acquisition of a low-cost 11-inch ultraportable, but so far nothing gives me the I NEED THAT reaction as much the NC10 did the first time I saw it. I'd like more screen space / resolution and some extra oomph, but I don't want to give up the light weight.
While I have various bags for all of my gear, the NC10 almost always comes tucked in a sleeve.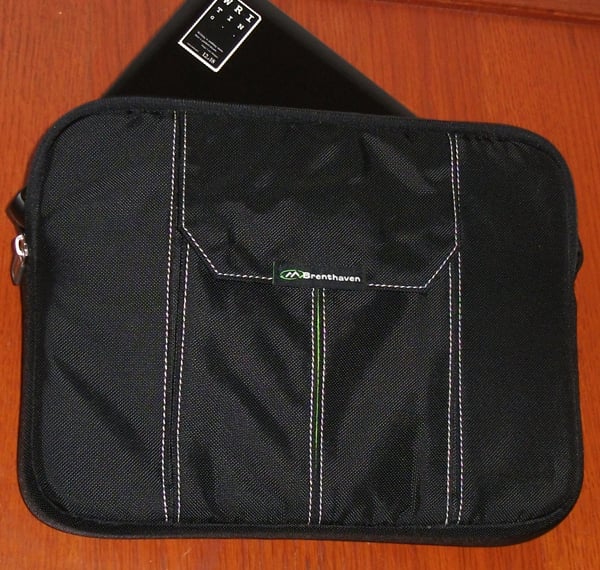 This is a Brenthaven eco-friendly sleeve that is, sadly, no longer available from the bag maker. I have no idea why — it's wonderful. It fits all netbooks and some 11-inch ultraportables in the main compartment, which has some light padding. The front pocket expands a little, giving enough room to stash cords, memory cards and the like. The back pocket fits a tablet.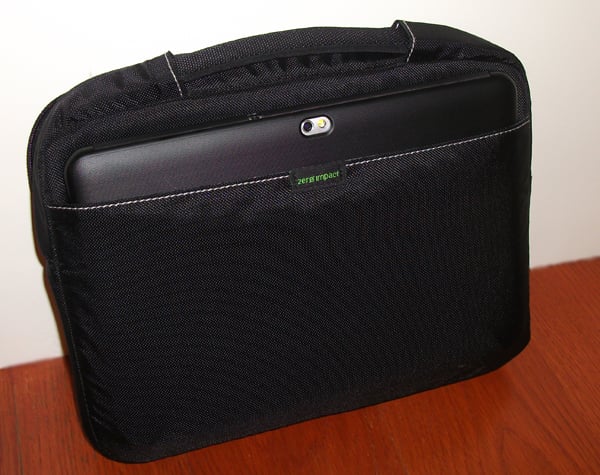 That's a 10.1-inch Samsung Galaxy Tab you see in there. This sleeve is one of my absolute favorites. If it had a shoulder strap it could serve as my only bag in some circumstances.
The Galaxy Tab doesn't have a permanent place in my gear bag, as I only really use it when I'm hooked on a game or reading a magazine from the Nook library. Magazines look really good on the 10-inch display. At the moment, the Tab is sporting a nice cover courtesy of Samsung called the Book Cover. I'll write a separate post on the Tab accessories I've tested recently, as there are quite a few good ones.
Another little bag I carry inside the bigger one is a cord pouch from Waterfield Designs. Here's a picture of the pouch and the gear I usually stuff inside: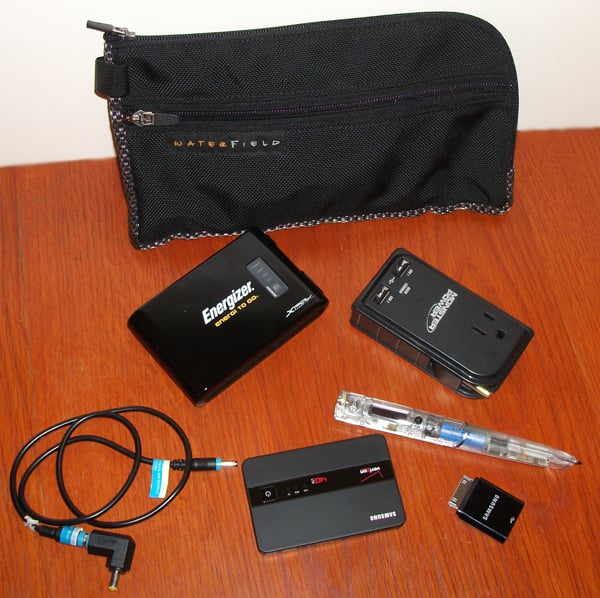 That's not everything from the pouch, but you probably don't need pictures of the microUSB and miniUSB cords I always carry. That Energizer/XPAL brick on the left is an Energi To Go battery pack. I carry this with me everywhere I go because it will charge up most USB-powered devices (like phones) as well as netbooks and notebooks. I don't even have to carry a separate A/C adapter for the NC10 as long as I bring the cord that powers the battery and the cord/tip combo on the left. This helps cut down on the overall weight of my bag.
Given this, you might wonder why I also have the Monster Outlets To Go 300 on the right. I carry that when I'm traveling or when I'm going to work in a coffee shop here in NYC. In places where outlet space is at a premium it's always a good idea to bring along a thing that adds to the number of outlets available. Plus, it has USB power ports. Whenever I whip this out in an airport terminal that hasn't caught on to everyone's need for power (not to mention Wi-Fi), I am hailed as a hero.
The Verizon 4G mobile hotspot I received at this year's Google I/O. I use it much more now that the free mobile hotspot ride is over on my phone.
Just above that is a weird pen-looking thing. It is indeed a pen — an Echo Smartpen. I find this little gadget invaluable when attending press events and doing interviews. It records my pen strokes and the audio associated with them, which I then download to my computer. It gives me a digital copy of my paper notebook with audio synced perfectly to whatever I was writing. I can even send notebook pages as PDF files, complete with audio. This is another gadget I cannot live without.
Rounding it all out is a Samsung USB adapter for the Galaxy Tab. I bring this along in case I need to transfer files onto a USB key for friends. This comes up more often than you'd imagine.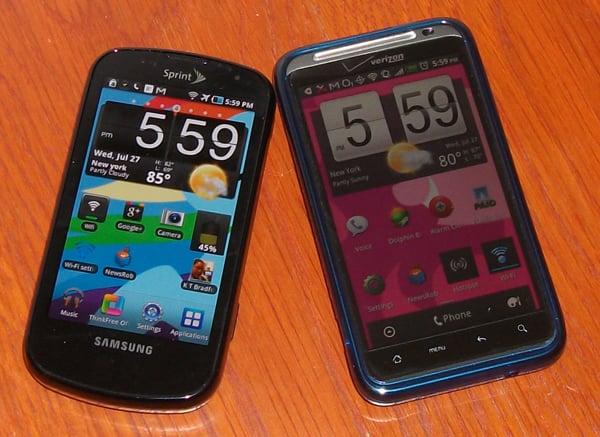 Yes, I do carry two phones. However, I don't use the Samsung Epic 4G on the left as a phone. It doesn't have cell service at all. I use it like a PDA or MID and connect to Wi-Fi  when I need to. I know you're wondering why in the world I would do that, especially since I have a perfectly wonderful HTC Thunderbolt on the right.
It comes down to this: I write a lot while on the subway and while standing in line. And even though I can write on my netbook on the train, it's not ideal. Writing on a handheld device makes much more sense. So I really needed a device with a good keyboard. The Thunderbolt's software keyboard is pretty good, and lately I've been rocking SwiftKey with good results, but to type fast and accurately a good hardware keyboard is a must. I've tested a lot of keyboards on a lot of phones and the Epic 4G is the best, in my view.
Since I'm with Verizon and don't want to switch to Sprint, I went with the Thunderbolt as my main phone. I was a huge fan of the HTC Evo 4G and coveted it's Verizon-based cousin the moment it came in for review. After some tweaks to the power settings I was able to get the battery life to a non-sucky stage and still keep my 4G on.
I have a giant collection of laptop bags since I've been covering them for many years. I don't have just one solid go-to bag, but a bunch of backpacks and messengers I grab depending on where I'm going and how much I need to carry. Lately I've spent the most time with this bag: the Harmony iPad/Netbook satchel by Skooba. Yes, it does look like a purse. Normally that would be enough to put me off, but it's one of the best-designed bags I've ever carried and I'm absolutely in love with it.
To start, it has a number of useful pockets and compartments. The most important being the iPad/netbook compartment that's big enough to accommodate slim 11.6-inch ultraportables like the Macbook Air or even the Lenovo ThinkPad X120e. Aside from that, there are pockets for cords/adapters, phones, business cards, etc. on the inside. On the outside there are two small, zippered pockets both on top of and under the flap plus a wide pocket on the back. It's easy to overstuff this bag, trust me.
As of right now, that's what's in my gear bag. I hope to soon acquire a nice, compact camera to carry around as well. And who knows what other sweet gadgets are on the horizon?
Maybe someday I'll give you a peek at my bookshelves as well…