Geek Lifestyle is Painful, But I'm Turning it Around
I've spent the past couple of weeks recuperating from a back strain. I didn't lift anything too heavy or perform any strenuous activities. I simply tried to stand up after spending a couple of hours working on my notebook on my couch. The simple act of standing brought me to my knees and I spent the next couple of days at home, shuffling around like an old man.
The pain continued until I was able to go to an acupuncturist who poked and prodded at my back with needles, fists, elbows and a wooden contraption that looks like a weapon of some kind. The first treatment was pretty painful and served as a big wakeup call.
My digital lifestyle is having some pretty serious adverse effects on my health. My cardio capacity is at an all time low, my posture is horrible and my I have various aches and pains that can be tracked back to sitting in front of a computer for hours on end. Apparently, I'm not alone. My acupuncturist told me that almost all of her and her partners' (massage therapists and a chiropractor) clients sit at computers all day. She explained that sitting and repetitive motion is far worse for my health than back-breaking work. The years of hunching over a keyboard have caught up with me.
Instead of continuing down a path that would likely cause more serious health problems, I've decided to change a few things.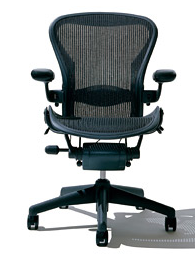 To start, I've done a few things to improve my workspace. Part of the problem with being 6′ 4″ is that everything is too low, including my desk. I adjusted my desk's legs and it's now four inches taller than before, which means my hands are at a more natural position and I don't have to hunch over to see my notebooks' displays. I'm relying more on my external monitor, which is on an Ergotron wall mount that I've adjusted upwards as well.  I firmed up the settings on my Aeron chair, which I bought at a dot-com fire sale back in 2001.
I'm also trying to ease my aches by using my devices more efficiently. I'm a big fan of Nuance's voice recognition software, but I haven't used it as much as I should. The company just released Dragon NaturallySpeaking 11 Pro and sent over a review copy. So far, it seems to be much more accurate than DNS 10 and MacSpeech, but I still need to get more accustomed to using it regularly. Voice transcription has its challenges, but I think the tradeoff is worth it. This should reduce the number of keystrokes by at least 10,000 per day and keep my hands, wrists and fingers from breaking down.
I've also been searching for services and applications to help me keep better track of my health. During my first visit to the acupuncturist I had to fill out a bunch of medical history forms. My memory of check ups, procedures and hospitalizations isn't nearly as thorough as my car's and computers' service records. I haven't found the perfect software or service to aggregate everything yet, but Google Health looks like a promising start. There are a number of mobile apps that I've bought for my iPhone that look pretty solid.
But nothing beats actually getting out and moving. According to my acupuncturist, simply standing or walking more is a huge improvement over sitting for eight hours per day. I now stand while on conference calls and have started a habit of running and walking up the hills of San Francisco. I'm also throwing in some other exercises for strength and flexibility.
After three acupuncture treatments and a couple of weeks of adjustments my back is pain free. I went out and bought one of those fancy TempurPedic mattresses that should help even more.
I'm starting slow, but I hope all of these tweaks will have a positive effect on my health.  Is your health taking a hit from too much computing? Any tips for getting back on the right track?