Get Better Galaxy S5 Battery Life With One Simple Trick
There is an easy way to get better Galaxy S5 battery life without turning off features or limiting what you do with the Galaxy S5. All you need to do is change your Galaxy S5 wallpaper and you can instantly get better battery life.
Switching to a black Galaxy S5 wallpaper can help deliver better Galaxy S5 battery life thanks to the way the Super AMOLED display on the Galaxy S5 consumes power.
Read: Galaxy S5 Tips & Tricks
The Galaxy S5 display is already more power efficient than the Galaxy S4, but a when there is something black on the screen the device uses even less power.
According to calculations on a much older AMOLED display, a white pixel can use almost 6 times more power than a black pixel. Steve Mould of BBC Science reported on this discovering in 2011, and it remains just as important today, even with more power efficient screens.
The Galaxy S5's default wallpapers look incredible with all sorts of colors and shapes, but bright colors use more power than a black wallpaper and black lock screen. This is why the Galaxy S5 Ultra Power Saving modes switches to a grey-scale mode instead of black and white.
There are no built-in black Galaxy S5 wallpapers, but you can find dozens of great options that still offer better battery life without going for a flat black option.
You will want to avoid one that is accented in black and white, but there are many options you can use. We created a black Galaxy S5 wallpaper that you can download and set as your background and lock screen to get better Galaxy S5 battery life.
This is a small and easy option, but there are many others. After you download it go to Settings -> Wallpaper -> Home and Lock Screens -> More Images -> set your black Galaxy S5 wallpaper.
If you don't want a pure black Galaxy S5 wallpaper you can find many other options in Google Images, on Flickr and on Deviant Art.
A search for black Galaxy S5 wallpaper brings many options for black or black and grey Galaxy S5 wallpapers that add more character than the black background we created.
If this small tip doesn't help you can follow our guide to get better Galaxy S5 battery life. Power Saving Mode is a good start, and Ultra Power Saving mode is an even better option when you need the Galaxy S5 battery to last days. You can also control apps, backups and cellular usage to keep things under control.
If you still need longer Galaxy S5 battery life you'll want to look into an extended battery or a Galaxy S5 battery case like those shown below.
5 Best Galaxy S5 Battery Cases
TYLT Energi Sliding Power Case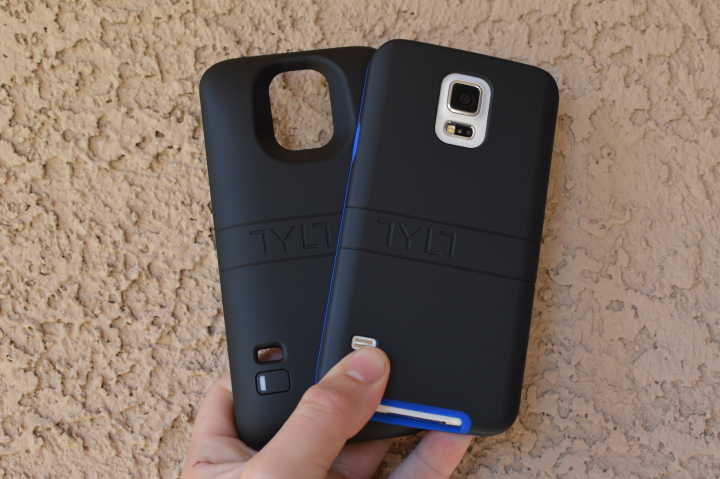 TYLT, the popular case, screen cover and accessory maker has tons of excellent options for Samsung's Galaxy S5. The Energi sliding power case however, offers two things you want. An excellent and low-profile case, and double the battery life for when you really need it.
What makes it one of the better options though, is these two pieces are separate so you only see and use the bulky battery case when you truly need it. It comes with a durable regular TPU and hard shell case, one that slides and locks into the 2,800 mAh battery case. This essentially doubles battery life.
Our only complaint is you'll need to take off the micro-USB cover that makes the phone water-resistant. Meaning you're sacrificing an important feature for better battery life. Double, in fact.
TYLT Energi Sliding Power Case - Buy for $79.99

As an Amazon Associate I earn from qualifying purchases.