Getting Ready for Hurricane Irene Using Tech
As Hurricane Irene bears down on the Eastern United States, residents prepare for the worst… but hope for the best. I lived in Eastern North Carolina from 1996 to 2000, during which time six hurricanes blew over my community. That included Hurricane Fran, which toppled a 300 foot tall pine tree onto my church's building, and Floyd, which flooded our area and washed out the bridge on the main road into town. My family and I learned that you have to prepare carefully for these storms.
To help, let me suggest the following apps, gadgets and finally some non-tech preparation.
Apps to Track Irene
You may not have access to a TV or traditional radio if you are away from home or if you lose power. But if you use a 3G iPad or have an iPhone, here are some apps that will help.
Before the hurricane hits, use this to track its path and get the latest weather information from the folks at HurricaneTrack.com. They provide videos about hurricanes and how to get ready. You learn what you should do before, during and after. Their forecasts go five days into the future with estimated track of the store, wind speeds and landfall times.
Visually you will get animated regional radar data. The app tracks storms all over the globe so you can follow Irene, or other storms. If your family or friends live somewhere in the path of a storm, this can help you keep up to date.
A couple of features that highlight the technology built into the iPad include push notifications about storms in your area. Using GPS data the app can also tell you how far you are from the storm's edges and eye.
For those who want to learn the history of the hurricanes, Hurricane HD goes back to 1851 for Atlantic storms and 1949 for Pacific storms. The detailed information is interactive.
Like having emergency weather radio in your pocket (iPhone version), this app for the iPhone or iPad streams updates from the National Weather Service. You can hear the latest about storm warnings, watches and advisories. You get weather forecasts. So when a hurricane approaches your area, this provides you the official alert radio info as it is broadcast. When life-threatening weather is about to hit your area, like a hurricane, it can send you a push notification if you've set it up to do so.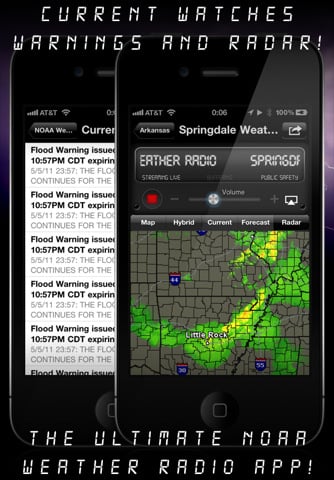 If you live in one area  but have loved ones in another, or travel to another area, this app can send notifications about both areas. While traveling the GPS data will tell you about storms in your current location.
If you listen to the radio, you can use it in the background while you use your iPad or iPhone for other purposes. To make sure your area's weather radio is included, visit the radio list on the developer's site.
Everyone knows about The Weather Channel, but did you know they have an iOS app? It serves as my "go  to" app for weather. During our hurricane experiences in the  late 90s we learned that The Weather Channel not only informs you, but does so in a professional and interesting way. The app is great too. The app shows you interactive maps with GPS location-specific content. You get hourly and ten-day forecasts for your location or anywhere you travel.
I like the video of breaking news, which can be helpful in a hurricane or any natural disaster. During or after the event, upload your weather photos and videos to help report on the situation. Inform your friends by posting info to Facebook from within the app.
Charging Your Gadgets Without the Power Company
When Hurricane Fran came through my area in 1996, we lost power for two days. If this happens to you, charging that iPhone or iPad you are relying on to use the above apps won't be possible without a non-traditional charging system. The sun often shines brightly after a hurricane because it clears out all the bad weather. Solar charging systems can help a lot in such situations.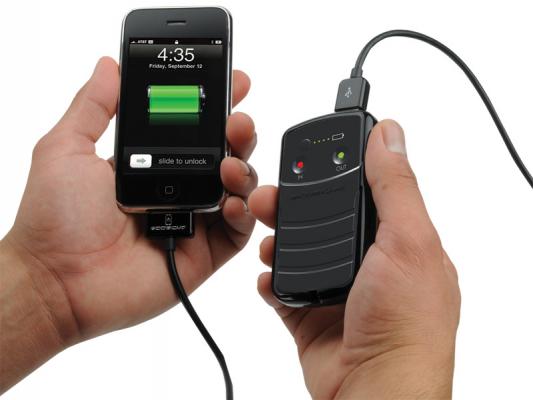 The Schosche Solbat II Solar Powered Battery Backup won't charge your iPad while you are using it, nor will it keep your iPhone up and running all day even with bright sun. It will, however, charge itself and give you enough time to briefly check your email, make a quick emergency call or read some news about the conditions in your area. I reviewed this device and found that for the price it does provide a little extra battery power for a small device like an iPhone or other smart phones. Don't think of it as a way to charge up your device but rather a way to power it while using it briefly. Do what you need to do and then turn off the device. Keep the battery backup powered by hanging it in a window with the included holder and suction cups.
If the sun isn't shining a solar-powered backup won't do. This hand crank generator produces 10 watts at 120 volts, enough to charge up some gadgets. I haven't tested this one, but the ratings on Amazon were good. The company's video proves that it will at least power a small gadget like an iPhone or small lamp light. This won't do a full charge, but will help in an emergency.
https://www.youtube.com/watch?v=_8qxLeYmaQQ&feature=player_embedded#!
Like the above generator this radio gets power from your cranking it. You get a built-in AM/FM NOAA Weather radio with an alert function in case of sudden bad weather. An LED flashes to alert you of bad weather. It resists water so you don't have to worry about getting it wet, just don't submerge it. You can power it via:
Built-in rechargeable battery
Hand crank
AC Adapter
3 AA batteries
In addition to receiving broadcast weather radio it has a built-in charger for powering a smart phone long enough to make emergency calls or getting a quick update on the storm via the Internet.
Another option includes a traditional gas or diesel-powered generator, which you can get at a hardware store for $400 or more. Just be very careful as you use it.
Non-Tech Based Prep
In addition to getting some or all of the above apps and gadgets, here are the basics everyone needs to do to get ready for a hurricane:
Buy flood insurance long before it comes
Either tie down or take inside things you store outside, like a grill, lawn or patio furniture
Tape your windows so they won't shatter all over you if they break
Fill all tubs with water in case water supplies are compromised
Turn the fridge to the coolest settings and don't open it or the freezer so that it will stay cooler longer if you lose power
Be sure you have plenty of charcoal or propane to cook on a grille if you lose power
Get matches and candles and be sure the flashlights all have plenty of batteries
Fill the cars with gas and check the tires, belts and hoses
Be sure to have canned goods on hand
If you live in a trailer or low-level find out where the shelters are in your area
For more information see the American Red Cross Hurricane Safety pamphlet.
Finally, if you are not affected but want to help, give to the American Red Cross or, if you are a member of a religious organization, to your group's disaster relief group. Many people don't know that their church will often send teams of volunteers to help in hurricane areas. I am Baptist and our Baptist Men group works alongside the Red Cross and Salvation Army as the third largest disaster relief organization in the world. Your religious group likely has a similar group.