Gift Guide: 10 Excellent iPhone 4S Accessories
If your family knows that you love your iPhone 4S, then you better hope that your Christmas stocking will be stuffed with a one or more of these cool iPhone 4S accessories we're featuring. Or just give them the link and say, "Here's my wish list!"
You can also make the iPhone fan in your life happy by giving them something from this list.
The list includes cases to protect your iPhone, accessories to enhance its functionality, and some great entertainment-related tools to give your iPhone-owning friend or family member even more enjoyment.
These gifts will work with the iPhone 4S. In most cases they will also work with the iPhone 4, or in some cases, previous models since not everyone will be upgrading before the holiday buying season.
Incase Snap Stand Case
How about a simple and understated case for the less flamboyant iPhone user who enjoys the phone as a media player?
The $39.95 (retail) Incase Snap Stand Case protects my iPhone 4S. I like the understated styling because it won't draw the attention of would-be thieves. The case snaps onto the iPhone, covering the glass back and giving free access to ports and buttons. The hard shell has a "soft" grippy feel instead of being slick plastic that easily slides out of your hand. The case won't add much weight or bulk to your iPhone either.
The kick stand on the back flips out to hold the phone at a nice viewing angle. You have to really pry it out which can be slightly annoying. Also, if you need to remove your case a lot, this one might not be the best choice: it's hard to snap off. Despite that, I like the case. It will also fit the iPhone 4.
$34.95 @ [amazon_link id="B005BI392W" target="_blank" container="" container_class="" ]Amazon[/amazon_link]
Mophie Juice Pack Air or Juice Pack Plus
You can go all day on the iPhone 4S with Mophie Juice Pack Air or Juice Pack Plus cases despite the poor battery life on the new iPhone.
Because of the poor iPhone 4S battery life, the Mophie Juice Pack Air  or Juice Pack Plus make great options for holiday gifts. They promise to get you through the day without adding too much weight or bulk. Available in three colors for the Air and six for the Plus, these cases slide onto the bottom of your phone and attach to the dock connector at the bottom. A second piece attaches to the top to encase the entire phone.
Besides the color choices the difference between the Juice Pack Air and the Juice Pack Plus comes down to battery capacity. The Air adds a 1500 mAh while the plus adds a 2000 mAh battery. I have the Air and it adds enough battery life to get me through an 18 hour day with juice to spare.
The micro-USB cable that comes with the case charges the case and your phone as well as syncs with iTunes.
I wouldn't recommend these cases for those in extreme work environments or for those who are accident prone. Dropping your $79.99 or $99.99 (retail) case and breaking it will feel almost as bad as breaking your iPhone. That said, I still would rather replace the case; it does offer some protection.
Starting at $48.99 @ [amazon_link id="B0046EBTQ0″ target="_blank" container="" container_class="" ]Amazon (Black – Air)[/amazon_link] or $70.99 [amazon_link id="B004GGU8SS" target="_blank" container="" container_class="" ](Black – Plus)[/amazon_link]
Kensington 2-in-1 Car Charger and AUX Cable
Solves two problems in one elegant cable so you can both charge your iPhone and listen to in while on the road.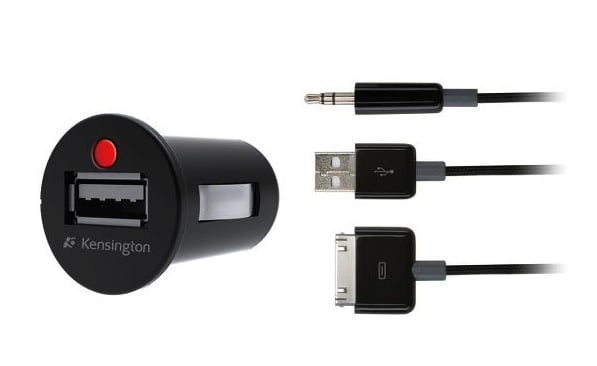 The Kensington 2-in-1 Car Charger and AUX Cable charges your phone through the USB cable and DC to USB adapter. And it connects the line-level audio out through a second stereo cable into my car's Auxiliary jack. It sonds great!
I've tried a bunch of solutions, including a simple stereo cable, wireless options, bluetooth and cheap knock offs of this cable design. None of them worked as well as this $39.95 (retail) cable. If your car's DC jack sits close to the floor, the 3-foot cables lets you still connect. My DC and Aux jacks sit in the arm rest compartment on my Pilot and the long cable assures that I can still prop the phone in front of me for navigation.
$8.99 @ [amazon_link id="B0031U1AU0″ target="_blank" container="" container_class="" ]Amazon[/amazon_link]
iHome iW1 Air Play Wireless Audio System with Rechargeable Battery
Play music or audio wireless from your iPhone or other AirPlay compatible devices with the iHome iW1 AirPlay system.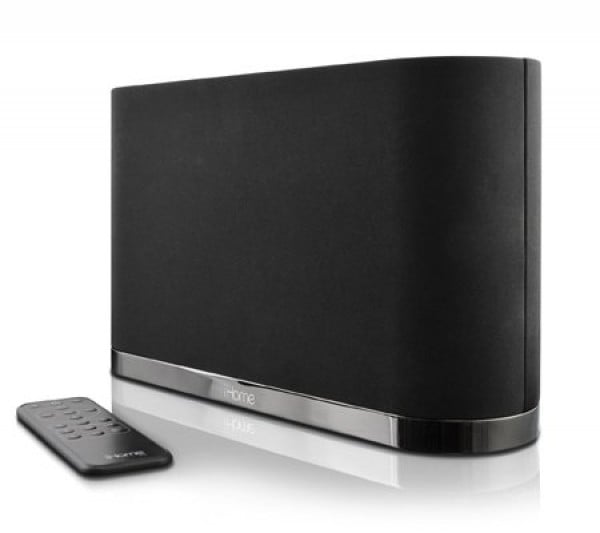 For serious music fans, the iHome iW1 will let you enjoy your music wirelessly thanks to Apple's AirPlay Wi-Fi technology built into iPhones, iPod Touches and iTunes. Stream music through a Wi-Fi network to the speakers.
The included remote lets you control the music on the iPhone, and the auxiliary input lets you also enjoy music from a CD player or an Android device. It has a USB port and included iPhone charging cable, so you don't have to drain your battery.
Speaking of batteries, this speaker system will travel with you thanks to the built-in battery that gives truly wireless audio. The speaker system weighs 6 lbs, which means it is more like a boombox than a transistor radio.
At $300 the speakers aren't cheap, but I haven't seen AirPlay speakers that are. I have used a number of iHome audio accessories and haven't been disappointed.
$299.99 @ [amazon_link id="B005XTBWQY" target="_blank" container="" container_class="" ]Amazon[/amazon_link]
Giinii AudioBulb Wireless Light Bulb Music System
Make your lights serve double duty as a wireless speaker system with the AudioBulb Wireless Light Bulb Speaker Music System.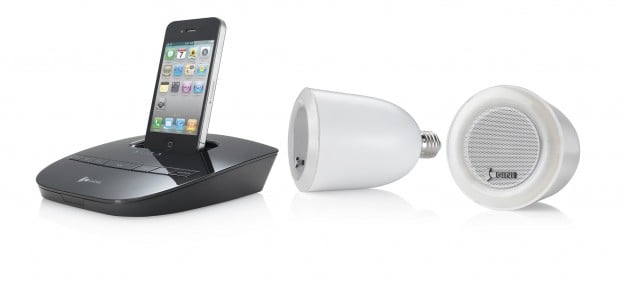 Using your lightbulb as a speaker sounds like a crazy idea. Yet Giini did just that by coming up with the AudioBulb Wireless Light Bulb Speaker Music System. Each light screws into a normal light socket but also serves as a wireless speaker. The system comes with a dock for your iPhone, which wirelessly sends the audio from the iPhone or from another source via the auxiliary input.
The whole system, including the dock and two bulbs, costs $299.99. Individual bulbs are $99.99. That's a lot of money for a lightbulb and we can't imagine the sound will be awesome. But in the right circumstances, like in an office where you want some background music in every room, or where you care more about aesthetics than music quality, this might work.
Check out the company's YouTube video.
$299.99 @ [amazon_link id="B005HXLJMI" target="_blank" container="" container_class="" ]Amazon – Full System w/2 Bulbs[/amazon_link]
Jawbone Up Fitness Companion
Getting fit gets easier with the Jawbone Up fitness companion to your iPhone that tracks your activity and food intake and more.
The Jawbone Up Fitness companion helps you track many health related categories from exercise to sleep to food intake. Wear the band on your wrist and it tracks your steps, how long you've been sedentary and your sleep cycles. If you've been sitting too long it reminds you to move around with a gentle vibration. Set the alarm to wake up at 6:00 and it tracks your sleep cycle. If you are in a lighter sleep at 5:54 it will wake you up a little early because you will feel more rested when you are awakened during light sleep than heavy REM sleep.
The built-in motion sensor tracks your movement and records how many steps you take. You can wear it in the swimming pool and not worry about sweat because it is waterproof.
The food tracking feature works with an iPhone app. Take a snapshot of your meal to log it and remind you what you ate. If the app can't tell what's on your plate through the photo you can enter information to help it.
$99.99 @ Jawbone | App Free @ App Store
Apple TV
The Apple TV give you the ability to stream music, video and play games on your TV all from your iPhone 4S.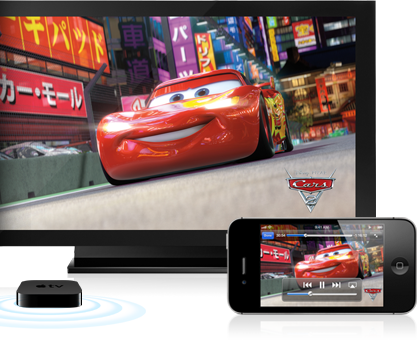 I love my Apple TV. It's a great stand alone set-top box for viewing streaming content like videos rented through the Apple iTunes Store, or other video servies like Netflix, YouTube, MLB, NHL and others. AirPlay makes this a great iPhone accessory. Wireless streaming technology built into the iPhone and Apple TV since iOS 4 means you can start watching a video on the iPhone and when you get home send it to the Apple TV. With iOS 5 you can mirror anything on your iPhone on an external display through the Apple TV for entertainment, business or education.
Hook up an Apple TV to your set at home and stream movies or games like Real Racing HD. You can also hook up to a projector at work for Keynote presentations. Teachers can show education games or apps in their classroom. The Apple TV won't take up much room if you want to carry it with you in a compute bag.
At under $100 it may soon become one of the cheapest set-top box entertainment systems.
$99 @ [amazon_link id="B001FA1NK0″ target="_blank" container="" container_class="" ]Amazon[/amazon_link]
Nox-Audio Scout HSM001A0 Headset
This set of in-ear headphones has good quality audio and a super small mic button with decent call quality.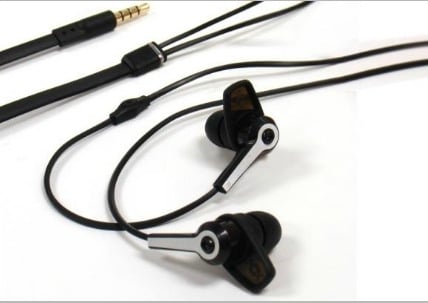 The Nox Audio Scout delivers good sound quality while listening to your music, movies or while talking on your iPhone. Our editor Josh Smith swears by them and likes the quality. He pointed out the mic button, which isn't as big and annoying as it is on some iPhone headsets like this. If you like the in-ear style of headset, then these should be a comfortable fit.
They aren't a cheap replacement for the ear buds that came with your iPhone. At $79.99 you have to really like this style of headset, so check with your recipient first.
$79.99 @ [amazon_link id="B0047CQ1PU" target="_blank" container="" container_class="" ]Amazon[/amazon_link]
Plantronics Voyager Pro HD Bluetooth Headset
The Plantronics Voyager Pro HD Bluetooth headset with smart sensor knows when you want to answer calls using it or your phone.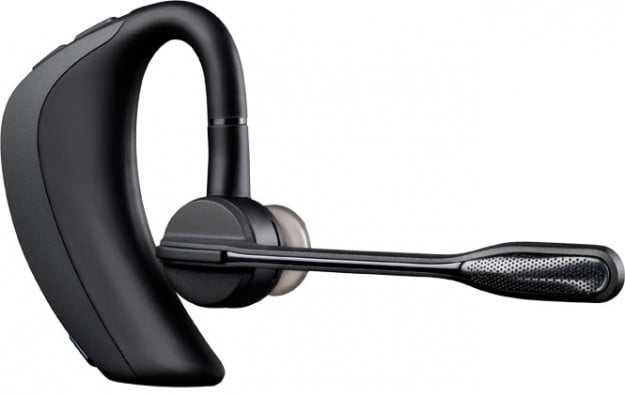 The Plantronics Voyager Pro HD Bluetooth headset delivers good quality audio just like the older model, the Voyager Pro UC 2 headset, that our editor gave an Editor's Choice Award. However, what sets both of them apart and why we're including it in this year's gift guide is the Smart Sensor technology that knows when you want to use the headset versus the phone.
When you get a call on your iPhone, the Voyager Pro headset will automatically take the call if you're wearing it. But if you put it down, tuck it into your pocket or a computer bag, it will automatically let the phone handle calls. No more hunting around for the Bluetooth off button on your phone or scrambling to find the headset in your purse.
The Voyager's battery lasts for six hours while talking or playing audio and up to five days on standby. At only $99.99, the headset costs half as much as the older UC 2 model our editor reviewed.
See the review with video of the older UC 2.
$79.99 @ [amazon_link id="B0047CQ1PU" target="_blank" container="" container_class="" ]Amazon[/amazon_link]
Scosche flipSYNC Keychain Charge and Sync Cable
Never be without a charging and syncing cable for your iPhone with the flipSYNC cable.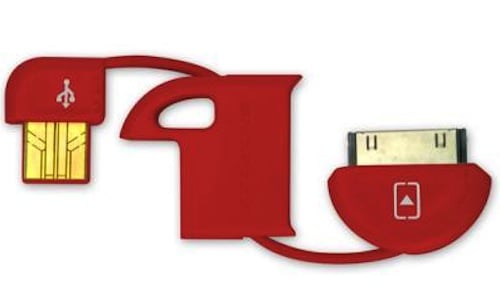 Keeping your iPhone charging and syncing cable organized in your pocket or bag gets annoying. I've used rubber bands, twist ties or just put it in without any cable management. This key chain solves that problem at a great price – just $14.99. It delivers USB 2.0 speed while not taking up any space. Attach it to your key chain and when you need it, detach the USB and the 30-pin dock connectors and plug them into your phone and your computer or USB charging port. They come in red, black and white from Scosche.
$13 @ [amazon_link id="B003554F7Q" target="_blank" container="" container_class="" ]Amazon[/amazon_link]

As an Amazon Associate I earn from qualifying purchases.