Gift Guide 2011: 5 Simple Last Minute eGifts
If you're like me you'd really rather not brave the last-minute shoppers this weekend as the Christmas buying frenzy reaches a peak. I love this time of year, but I hate what it does to people as they push through crowds on their way to get last-minute gifts for their family, and friends. That's why I love things like gift cards or certificates that you can buy online.
Keep reading for five ideas for great eGifts that won't take you out into the mad rush, but will still give you some Santa points as the recipient enjoys your present.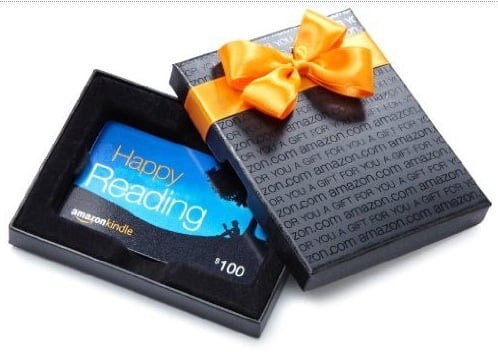 Amazon Gift Cards or Prime Membership
If Amazon doesn't have it, people probably don't want it. The "Wal-Mart of the Internet" has just about anything you can imagine. They may not literally carry everything, but most of the things your recipient might enjoy will be there, so why not give them some money to shop there. You can easily buy a physical Amazon Gift Card shipped via the mail or a gift certificate which you can deliver either by printing it and handing it to them or by sending it in email or on Facebook. These other digital options will be more useful this late, so check out their gift card site for all four options.
An Amazon Prime membership makes another great gift for someone who loves buying from the site. For $79 she will get fast two-day delivery on any item sold directly by Amazon or cheap next day delivery for $3.99. In addition she can enjoy the Instant Watch service, which is like Netflix, but with a more limited selection. If the person already has a Kindle, she will be able to borrow one Kindle book per month for free on qualifying books.
Apple App Store Apps or iTunes Credit
I already posted a How To on gifting apps via iTunes and the Apple App Store. Find the app you wish to gift and then choose that option from the drop down menu under the app icon. You will be taken to a page like the one below where you will enter the important details. You will need to know the person's email address to make it work.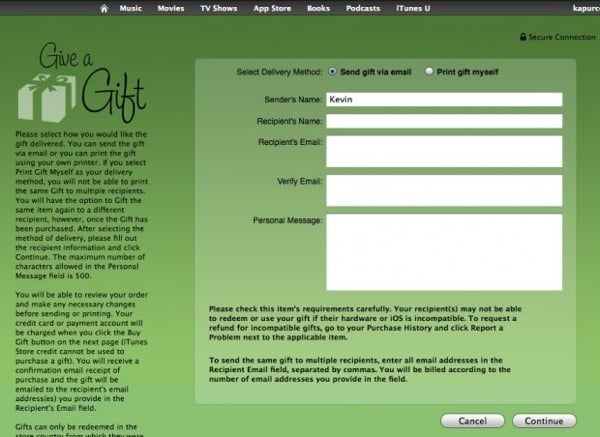 If you don't want to pick the game, you can also choose to buy a $50 iTunes card from Wal-Mart for just $40. They will send you the redemption code by email which you can forward to the recipient. I bought two for some people on my list this year.
Kindle & Nook Books
Giving books no longer means you buy a physical copy and wrap it. Now you can send a digital copy either via the Amazon Kindle store or Barnes & Noble. To buy someone a book for their Kindle, find the book in the Kindle store and then choose the "Give as a Gift" option. On their website you will see it along the right under the options for buying the book.
Enter the person's email address and choose the delivery date or have it emailed to you so that you can send it along yourself. You can also add the name of the recipient and a personalized message before you place the order. I couldn't find a way to do it on the Kindle, unless you use the Fire's Silk browser or the experimental browser on the B&W Kindles.
Over at Barnes & Noble you can just send an eGift Card like you can at Amazon. To gift a book, just choose that option under the Buy Now button.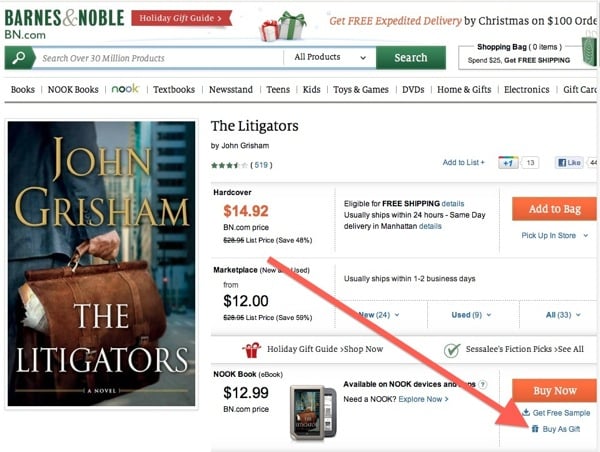 Enter the email address and your information along with a personal message. I couldn't find a way to schedule the gift, so you may want to wait till the day you wish to gift the book.
eGift Cards from Retailers
Most retailers have an online site where you can buy an eGift card, which you can be delivered or you can print it. Some have restrictions, however. At Best Buy you can send eGift cards ranging from $5 to $500. Others like Wal-Mart may have them too, so check out your favorite. GiftCards.com will also let you buy "virtual" gift cards.

This article may contain affiliate links. Click here for more details.