Gift Guide: Geek Gifts for Non-Geeks
Face it, many of the people on your shopping list this holiday seasons have no interest in the geeky gifts that you would love to give them. They don't want a smartphone and have no interest in a computer, or anything to do with either one of them.
However, they might be someone who needs one of these things. And you might still want to help them out with something that they may not fully appreciate on Christmas morning, but later will love you for. Or maybe you'd like to give them something they will treasure and won't even realize came from your serious inner geek (as well as the heart).
These are gift ideas for geeks to give to their non-geek friends, family or co-workers. In some cases the recipient will treasure the gift, but in others the gift will be something they may not fully appreciate at first, but later will sing your praises because of.
Photo Book from iPhoto or Other Photo Software
Create a printed coffee table book in iPhoto or some other editing software or photo sharing website.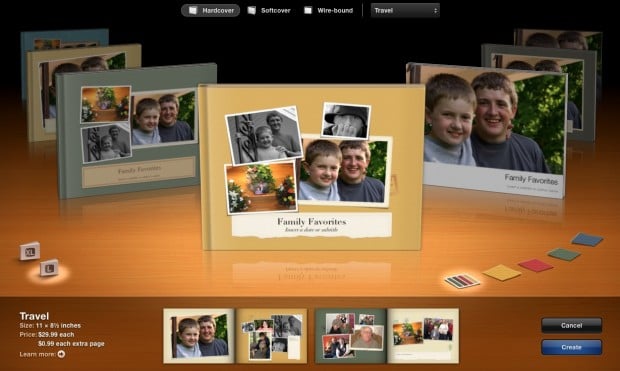 Whether you use iPhoto or Aperture on a Mac or something like Elements or Lightroom on PC, most photo editing and organizing applications provide a built in way to create a beautiful photo book or other photo packages. You can give grandma her very own coffee table book of your children from pictures you've taken throughout the year. It's a great way to share your family memories, especially if the family member lives far away. Maybe you took a bunch of shots of your soccer team this year. Instead of getting the coach a gift certificate to a sports shop, maybe he'd love a photo book or calendar of team shots.
In iPhoto, making one of these is easy. First, collect the photos into an album. Be sure to choose shots with a resolution that's high enough to look good on the printed page. Then, with all the shots selected, click on the Create button in the lower right corner of the screen.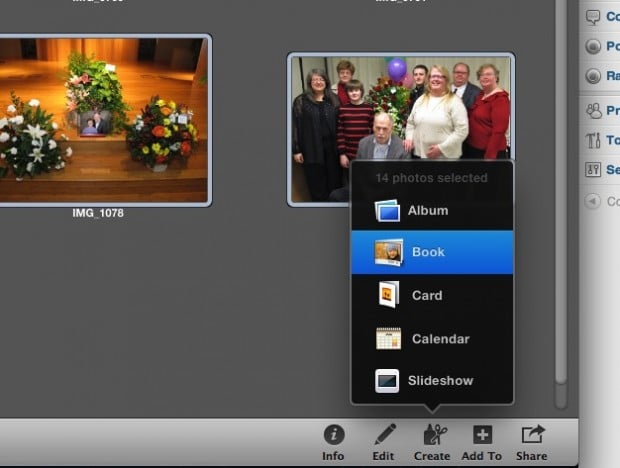 You can choose from a few different things, but the three that non-geeks will most appreciate are the Book, Card or Calendar. A book looks like a coffee-table book and will be something they can have for a long time. The Calendar is more temporary, as is the Card. Other photo editing programs have a similar function, so look at the help files to see how to do this in your program.
In iPhoto, a Photo Book costs $29.99 for up to 20 pages with each extra page you add costing another $.99. That's not a bad deal. iPhoto has a bunch of themes to pick from.
If your favorite photo editor/organizer doesn't allow for the creation of these kinds of projects you can upload them to sites like SmugMug and buy them there or possibly just print photos out yourself and frame them for hanging on the wall or put them into an album you order from Amazon.
$29.99 @ through iPhoto from Apple
Remote Tech Support Through LogMeIn
Instead of trying to talk your mom through the steps to install her printer software, log into her PC and do it yourself remotely.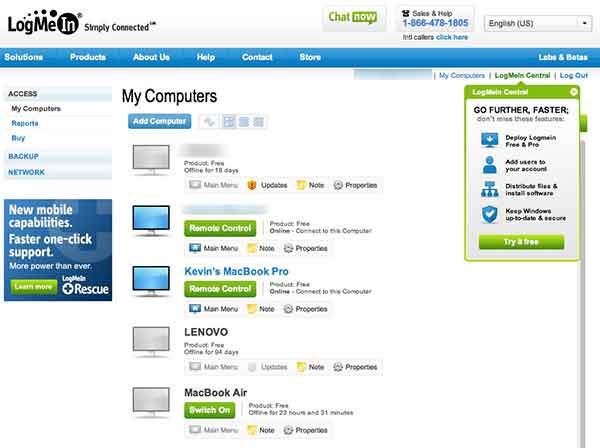 If your family member doesn't know the difference between the Windows 7 control panel and an Xbox controller, then a great "gift" would be to install LogMeIn on their computer. Then whenever they call you up and need tech support, instead of trying to talk them through it on the phone, something neither of you enjoy, you can just log into the system remotely and run disk clean up or download that critical update for them.
If you want to have something to actually give them at Christmas, you can make a card and put "Free Unlimited Tech Support" on it.
LogMeIn has a free version that you can use on a slew of computers. I know of people who have over a dozen in their account. If you think you will ever need to transfer files between the computers you can pay for a Pro plan which costs $69.96/year. That's total, not per PC/Mac.
There's also an iOS or Android version that makes it possible to remotely use or fix computers from your phone or tablet. Each of those apps costs $29.99. The free version should suffice for the vast majority of users. If you do want to transfer files, just set up a free DropBox account.
Setup an Online Backup Account
Keep them from calling you crying after losing all their files with one of these online backup solutions.

As we said above, while installing LogMeIn you can also setup a free online backup account for your friend or family member who hates doing this stuff themselves. We've played with all of them, but I still think DropBox offers the best free solution because of ease of use and ubiquity. It works with more services and software.
You can go one of two routes. Either add the service to their computer under your account with only certain files being shared or your can set up a new account just for them and share the files with your computer. Either way works, but I think giving them their own account will be best option allowing them to grow into the app/service if they become more advanced in their skills.
Either way, if you share your account or make theirs, you can access the files.
Another more expensive option would be to buy them an account from something like Carbonite, which just backs up their system no matter what. It costs more, but might be more idiot proof.
Amazon Kindle Touch
Geeks love to buy tech, so buy the non-Geeks on your list a techy gift that even they will love.
A couple of years ago we got my mother-in-law an Amazon Kindle 3. She loved it and still uses it to do most of her reading. She has poor eyesight and loves the ability to enlarge the text to huge sizes, making it easier to read. She is far from tech savvy. I have to load her Kodak digital photo frame  with new pictures because she can't figure out how to get them off her camera and onto the frame. But she can download books after we bought her the Kindle and set up her credit card with an Amazon account.
The two new kids in the Kindle family are simple to use and, with price cuts, make great gifts. I reviewed the Kindle 4 a month ago and the Kindle Touch this week. If you don't mind paying the extra $20, then get the Touch.
You can highlight your books and add margin notes much easier with a keyboard you touch instead of plodding along with the directional button. It also has audio playback of Aubible books or your own music files. With a gift of a Kindle, in the future you can buy the person books by sending them to their Amazon account. If the person reads a lot, he or she will love you.
If you think the person will be confused by the need for Wi-Fi all the time, then be sure to get a 3G version which does cost $50 more for the Touch but has lifetime free Wi-Fi for downloading content.
Don't get the Fire because it might be a little too complicated for the seriously technologically challenged. If the person isn't that limited in their technological know-how then the Fire might be a great gift. It adds a color screen and apps. You can view video and listen to audio as well. But the battery runs out much faster.
Starting at either $79.99 @ Amazon or Best Buy
Apple iPad 2
All the computer many non-geeks will ever need for surfing the web, checking email and Facebook, and consuming media.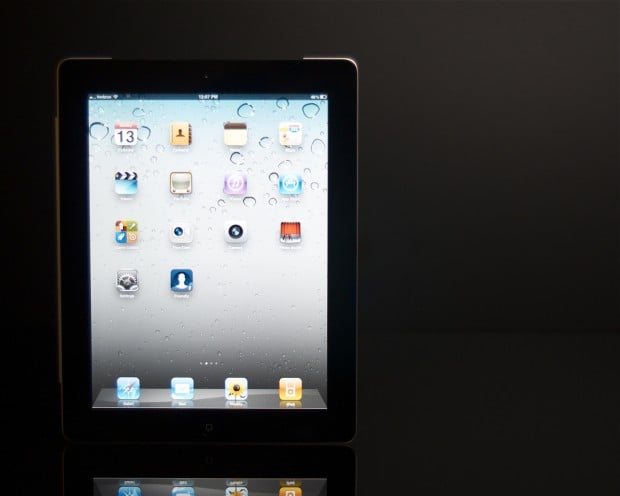 While I wouldn't recommend this to the person who gets scared pushing the buttons on their microwave, for most people, even non-geeks, an iPad would be a great gift. It might be all the computer that some will ever need. You can surf the web, check email, use Facebook or Twitter, and consume media like books, video, and audio. Now you can even take pictures with iPad 2, albeit not great ones.
At $500, the recipient has to either be someone really special or someone you really want to owe you big time! After opening this gift they will.
We've written plenty about the iPad and did an extensive review. The ten inch tablet has to be the best option still despite all of the decent Android devices on the market. The collection of apps and readily available accessories makes this the best choice for a non-geek. Your tech savvy friends might prefer something more open and versatile like an Android tablet. But non-geeks need something simple and the iPad truly is the simplest tablet around.
Starting at $499 @ Apple
See our other 2011 Gift Guides for more buying ideas.