Gift Guide: Tech Toys and Gadgets for Kids
Kids love tech and gadgets just as much as adults, and are often quite partial to the same toys their parents bring home. While that's not always an ideal situation, giving them their own gadgets to play with will satisfy their techie hearts. But don't hide that iPad or iPhone away just yet, because several of the toys in our list utilize them for kid-friendly and family fun.
If you're shopping for kids aged 4 to 9, we have 10 toys, gadgets, and serious devices that they'll fall in love with as soon as the wrapping comes off. We've found the coolest toys ranging from a tablet just for little ones to RC helicopters controlled by iPhones. And for older kids we've found some great gadgets that will help them grow into digital natives.
LeapFrog LeapPad Explorer Tablet (1 – 4 Years)
Keep them away from your iPad for a few more years.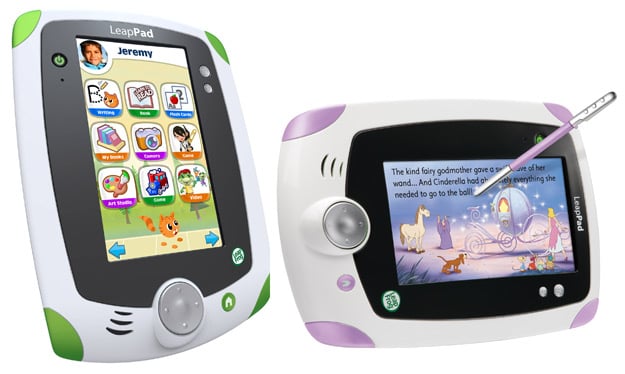 The little person in your life may think the iPad is a toy, but you know better. Instead of fighting with them over control, get them their own tablet. The LeapPad Explorer may not look exactly like your tablet, but it's made with child safety, learning, and fun in mind, so you won't have to be worried about letting them take it off to their room.
Just like grown-up tablets, the LeapPad has apps for taking pictures with the embedded camera, reading eBooks, drawing, and playing music. There are plenty of games to play, some of which utilize the device's accelerometer. While many of these activities focus on fun, they also have a learning component.
The LeapPad makes it easy for parents to keep track of their child's learning progress. Just connect it to your computer via USB and use a free program to see how kids are doing. Parents will also appreciate that the LeapPad takes the same cartridges as the LeapFrog Explorer, so your kid can move up to the tablet without the need to buy a whole new set of games.
Though the LeapPad doesn't have Wi-Fi capability, you can buy and download games, books, and other content online to load on the tablet via USB without the need for a cartridge. Kids can share their creations and accomplishments to Facebook (with parent approval), too.
The LeapPad will grow with your child, keeping them away from your tablet for a few years, at least.
Kid-Tough See Yourself Camera (2 – 7 years)
A camera that doesn't mind being dropped.
Fisher-Price's latest kid-friendly digital camera takes its cue from popular smartphones by offering tots a way to take pictures of themselves as well as others. The swiveling lens rotates 180 degrees to take shots in front or behind and has a small LCD preview screen so kids can line up shots just right.
The chunky body and simple controls mean that even young kids can start taking pictures on their own. The SD card slot makes it easy for parents to transfer pictures to the computer. With free downloadable software kids can add effects and silly stamps as well.
Most importantly, the camera is built to survive some pretty rough treatment. Drop it time and time again and it will keep on ticking.
Woogie 2 (4 and up)
A kid-friendly case that protects your iPhone from your child.
If your child is a bit old for the Apptivity Case but isn't yet careful enough with your smartphone, place it inside a Woogie. This weird yet huggable case is part stuffed animal friend and part protection for your iPhone or similarly-sized Android phone or MP3 player.
Kids can't easily get to the see-through pocket, so your device will remain safely tucked in. Touching the screen will still wok through the plastic window, so they can play games or just watch videos.
The Woogie's five legs make it easy to hold or position in a lap or on a table. And while it probably can't protect your phone from an all-out assault, it'll be reasonably protected from bumps, minor drops and the like. Plus, even when the phone isn't in the pocket, your child can hug and hold Woogie like any other stuffed toy.
MyPhones (4 and up)
Kid-safe headphones keep the volume at safe levels.
Kids love listening to music, but parents don't want to always listen along. Giving them a set of headphones is a simple solution, but allowing kids to listen to music or videos too loudly can damage hearing. Instead of just buying a random pair of headphones, choose ones that will protect eardrums and still sound great.
Griffin's MyPhones cap audio at 85 decibels, the maximum recommended volume by auditory health professionals. Even if your kid cranks up the tunes they won't be able to blast the volume. Plus, the MyPhones are actually good quality over-ear cans, so they won't need to turn up the iPod to get rich, well-rounded sound.
Make them more fun for your kid by customizing the look or creating earcaps with their favorite characters or art using your own printer.
GameChanger for iPad (6 years and up)
Traditional board games meet the iPad.
The iPad makes a great gaming platform, but it doesn't exactly bring the family together like a traditional board game. Combine these old school and new fangled concepts together and you get the GameChanger from Identity Games.
The idea behind this concept is both brilliant and yet makes so much sense you wonder why no one has thought of it before. With the GameChanger, the iPad becomes part of the board game, keeping track of the game pieces and where they should be (no more sly cheating!) and providing interactivity through videos, on-screen challenges, and more. The app can also keep track of points and other in-game information so kids can concentrate on playing.
Two games come in the box — The Magic School Bus from Scholastic or AnimalMania — and other game skins will be available next year, so the GameChanger never has to get old. All games are for 2 – 4 players, so groups of kids or the family can gather around the iPad for a fun game night.
Mechatars (6 and up)
A toy that's just as fun online and off.
Kids today live their lives in both the physical and virtual worlds, and so should their toys. Mechatars truly straddle the digital/physical line, offering fun gameplay in both worlds. Mechatars are remote-controlled fighting robots that have direct counterparts in a virtual world, which is accessible through any browser. Unlike other similar concepts, what kids do in  he virtual world actually impacts the abilities and skills of their Mechatars.
Completing real world missions unlocks new virtual games and levels. Multiple Mechatars can also recognize each other via wireless communication, allowing for fun head-to-head battle with friends. To download new missions, abilities, and other extras, kids just plug the robots into the computer via USB. Mechatars also have expansion packs with attachable weapons that will reflect in the online version of the toy once connected.
The virtual world of the Mechatars is beautifully rendered in 3D graphics that run in a browser — no downloads required — and works on both Mac and PC without even the need for Flash.
Nintendo 3DS (7 and up)
Game in all 3 dimensions without the need for glasses.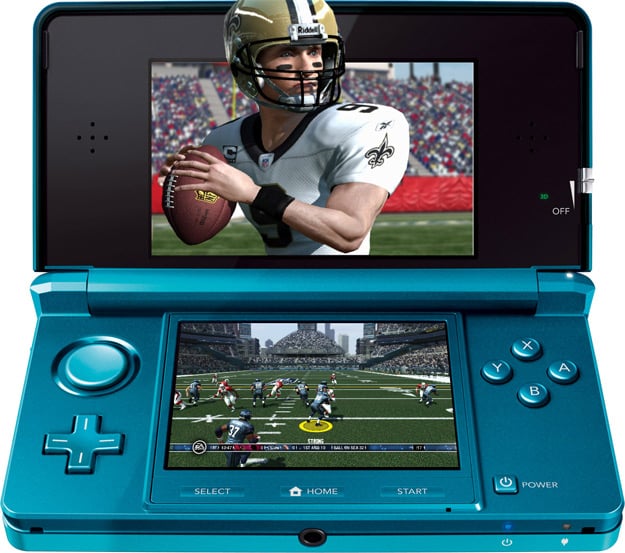 3D is one of gaming's biggest trends, but who wants to wear those funky glasses all the time? With the Nintendo 3dS, kids can enjoy games with depth and eye-popping action sans glasses. And with the 3D camera on the back, kids can record their own extra dimensional movies as well.
For those parents worried about what 3D might do to young eyes, the 3DS has a slider on the side that allows kids (or parents) to adjust the 3D depth or turn it off completely.
Aside from this feature, the 3DS is one sweet gaming system. New to this model is an analog joystick pad for finer control in games in addition to the traditional directional pad below it. The 3DS has an accelerometer and a gyroscope, which can be utilized in gameplay — so wrenching the 3DS around really will help Mario make that jump! Well, maybe. Via Wi-Fi, it can form local area networks with other devices of its kind for multiplayer games and avatar interactions.
The 3D cameras on the back aren't just for taking 3D pictures and movies, but for playing augmented reality games. A front-facing camera is on board, too, for taking self-portraits and other fun activities.
Since it's backwards-compatible with Nintendo DS and DSi games, you won't have to buy a whole new library for a whole new device. Older games just won't be in 3D.
Mindflex Duel (8 and up)
Mind control has never been so much fun.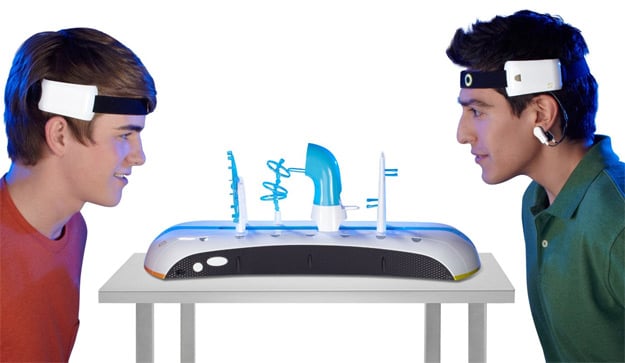 This is one of those toys that is as fascinating as it is fun to play. The concept is simple, but wrapping your brain around it is hard. In MindFlex Duel kids control a floating ball and attempt to navigate it through a series of obstacles all while another kid (or hapless parents) tries to do the same, pushing the ball back towards the opponent's side of the game. Each person must move the ball using only their minds.
Sounds science fictional, I know, but this actually works. Through the lightweight headset, the game measures brainwaves to determine levels of concentration. The more concentration you achieve, the more control you have over the ball.
Kids can design many different obstacle courses ranging from simple to complex or play interactive games solo or with a friend. Once they master it they may expect to control other objects with their minds. When that happens, I'm sure Professor X will be along shortly with an invitation to his special school…
Acer Aspire Happy2 netbook (8 and up)
A little computer for a little person.
Are you ready to give your child their first computer? Netbooks make great starter machines because of their small size and ultra portability. Plus, the smaller than average keyboards fit kid hands perfectly. Though there are netbooks aimed specifically at kids, I'm a big proponent of giving them a solid mainstream netbook that doesn't cost too much. It sidesteps problematic branding and lets kids decide what kind of decoration they want.
Acer's 10-inch Aspire Happy2 netbooks are under $300 and come in four fun fruit-flavored colors like Papaya Milk and Banana Cream. They have single-core Intel Atom processors, so your kid won't be able to play hard core games or edit videos, but they will be able to surf the web, use an Office program, draw and play in simple Paint apps, listen to music, watch video, and perform other basic functions. Perfect for someone just learning about computers.
Of course, parents should place some strict parental controls on the netbook to keep kids safe. Since it runs Microsoft Windows 7, finding such apps will be easy and installing them hassle-free.
Wi-Fli RC Helicopter (9 and up)
This helicopter puts your smartphone in control.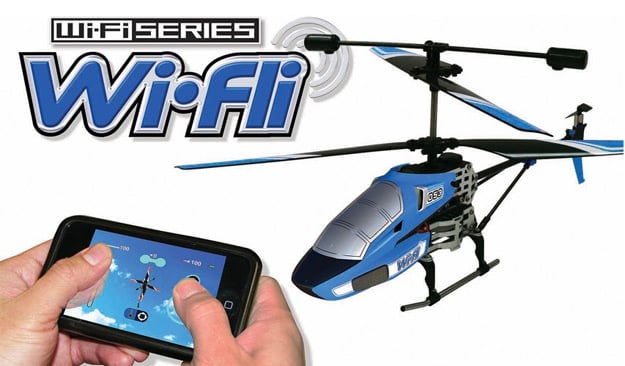 RC vehicles are still a favorite amongst older kids, if not their parents, but recently this old favorite gained a new twist: control via smartphone apps. The Wi-Fli RC Helicopter doesn't come with a controller. Instead, it connects to iOS or Android devices via Wi-Fi and kids can utilize a free app to zoom it around the backyard or the living room (probably the backyard…).
You don't need to be within range of a Wi-Fi router for this to work. The helicopter itself generates a Wi-Fi hotspot so a smartphone or tablet can connect directly. That means kids can fly it around even in the deepest woods (which may be the safest place).
The app utilizes the device's accelerometer and multitouch surface for steering and controlling. Once your kids get the hang of it, they'll be playing at rescue missions in no time.
Requires Android 2.1 and above or iOS 4 and above.