Gift Guide: Top Gadgets, Tech, and Toys For Tweens
By the time your kid reaches the tween stage, toys start to give way to actual gadgets on the wish list.
While you're probably not ready to break out the cash for expensive technology, there are some great devices that will keep your tween entertained and help you teach them about tech responsibility.
Of course, there are some things on the list that are just pure fun, and there's nothing wrong with that.
Find a great tech toy or grown-up gadget for kids 10 and up in our guide. Shopping for someone younger? Check out the Tech Toys for Toddlers and Gadgets for Kids Age 4 – 9 gift guides.
Samsung Galaxy Player 4.0
Many kids will ask for the iPod touch, no doubt, but the Galaxy Player can be a better choice for many. It runs on Android 2.3 (Gingerbread) and offers pretty much the same features as a smartphone — access to the Android Market, Wi-Fi and Bluetooth connectivity, front and rear cameras, plus music and video playback — minus the phone and the carrier contract.
Kids can play games, videos and music or read books and take notes, making it a useful gadget for both school and entertainment.
Beyond that, it has some features parents will really appreciate. The GPS inside means you can keep track of your kid via Google Latitude and even ask them to check in when they get to school, home or other approved destinations.
Though it's not a phone, it will make video and voice calls via Fring, Google Talk, and Skype. If you add a free Google Voice account to their Google account, they can text with friends from the Galaxy Player for free.
$229 @ [amazon_link id="B005P1VMLU" target="_blank" container="" container_class="" ]Amazon[/amazon_link]

Sol Republic Tracks Headphones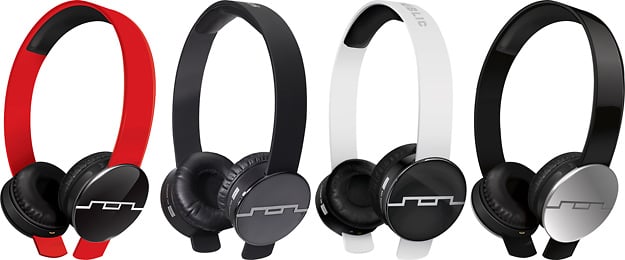 Start your tween's life listening to music off right and ditch the crappy headphones that come with most MP3 players for a pair with better audio quality. No need to shell out hundreds of dollars on Beats, Bose or Sennheiser, especially when they might en up broken at the bottom of a backpack. Sol Republic's new Tracks headphones deliver great audio and won't crack so easily.
The headband on these sweet 'phones will bend all the way back without breaking and the ear-cups are super adjustable, so they'll fit even small heads.
The Tracks are made with good audio in mind, so kids won't have to crank the music to experience rich sound (thus saving their hearing for a few more years). It will give them an appreciation for how music should sound, so they'll grow up into discerning audiophiles.

Nintendo 3DS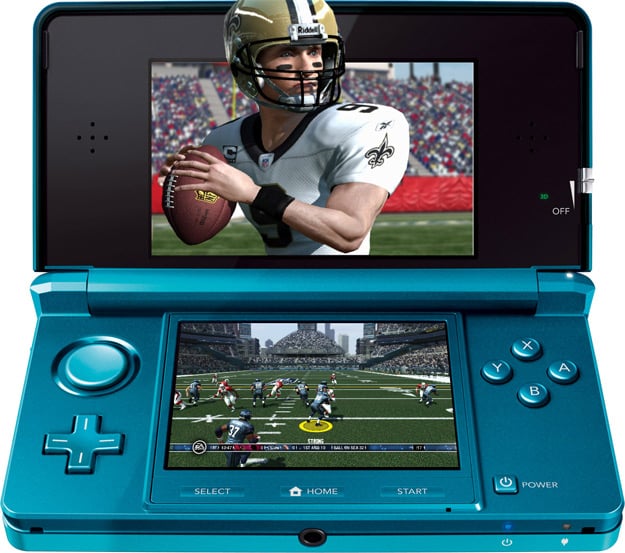 3D is one of gaming's biggest trends, but who wants to wear those funky glasses all the time? With the Nintendo 3dS, kids can enjoy games with depth and eye-popping action sans glasses. And with the 3D camera on the back, kids can record their own extra dimensional movies as well.
For those parents worried about what 3D might do to young eyes, the 3DS has a slider on the side that allows kids (or parents) to adjust the 3D depth or turn it off completely.
Aside from this feature, the 3DS is one sweet gaming system. New to this model is an analog joystick pad for finer control in games in addition to the traditional directional pad below it. The 3DS has an accelerometer and a gyroscope, which can be utilized in gameplay — so wrenching the 3DS around really will help Mario make that jump! Well, maybe. Via Wi-Fi, it can form local area networks with other devices of its kind for multiplayer games and avatar interactions.
The 3D cameras on the back aren't just for taking 3D pictures and movies, but for playing augmented reality games. A front-facing camera is on board, too, for taking self-portraits and other fun activities.
Since it's backwards-compatible with Nintendo DS and DSi games, you won't have to buy a whole new library for a whole new device. Older games just won't be in 3D.

Nook Tablet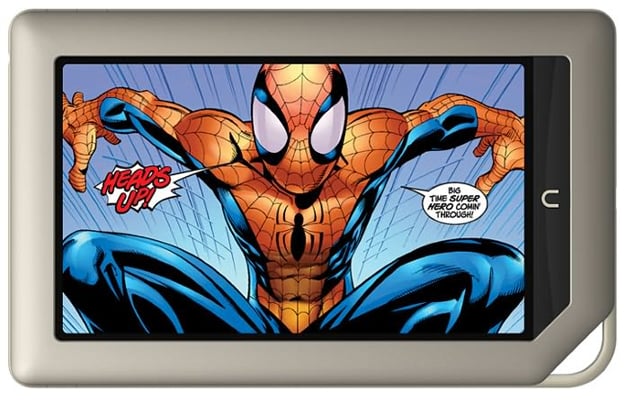 If you want to give your tween a tablet but don't want to spend $499, don't go to the other extreme and buy some random tablet just because it's inexpensive. Crappy tablets — craplets, I like to call them — aren't a great gift for anyone of any age and will just end up under the couch with the other forgotten or unwanted toys.
Instead, go for an inexpensive but awesome slate like the Nook Tablet. Barnes & Noble's newest device is an eReader, Android tablet and entertainment machine all rolled into one. Since the Nook doesn't have the full feature set of an iPad or Android tablet — no cameras, Bluetooth, 3G connectivity, HDMI output, etc. — it sells for a reasonable price. However, the features it does have are pretty sweet.
Kids will enjoy reading and playing games on the 7-inch IPS display and can even share the screen with friends or siblings thanks to the wide viewing angles. The dual-core processor inside means smooth, responsive gameplay and video without stutter or dropped frames. With Wi-Fi they can also check email and surf the web.
The Nook's app store has a good mix of games, book-centric apps, and educational tools; the Nook bookstore has millions of titles for all age ranges; the new Nook Comics store has titles from Marvel and other small publishers with more on the way. The Nook Tablet makes a good gift whether you're looking to entertain, educate, or a mix of both.
Check Out Our Hands-On With the Nook Tablet

iCade
Give your game-loving tween a taste of old-school gaming with the iCade. This iPad accessory mimics the look of the arcade cabinets of yore and lets kids play Atari games the way they were meant to be played: with a joystick and buttons.
The iCade is compatible with both the iPad and iPad 2 and works with all of the games in the 100+ Atari's Greatest Hits catalog. Plus there are over two dozen other games in the app store made to work with the iCade with more to come. You and your kids will never get bored or run out of games to play.

HP Pavilion dm1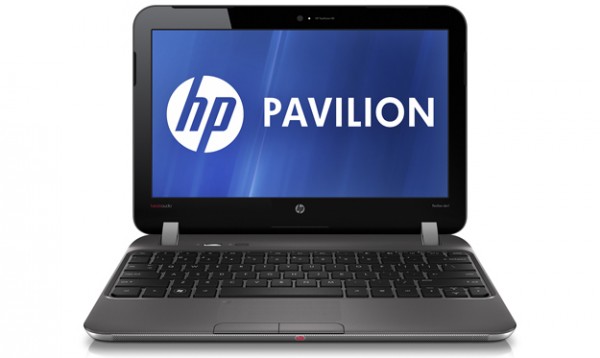 The HP Pavilion dm1 is a lightweight 11.6-inch machine with an AMD Fusion APU, making it an excellent choice for someone who puts a medium workload on their laptop such as a middle or high school student. It's a step up from netbooks but not quite as robust (or expensive) as a mainstream notebook. It offers multitasking power, so your tween can switch between a browser with multiple tabs, an office program and a music player without slowing down.
At 3.3 pounds this notebook won't weigh them down. The 11.6-inch HD display is large enough to view windows side by side. The wide viewing angles and bright colors make it great for watching video.
Available on HP.com with multiple configuration options, I suggest you pay the extra $30 and upgrade to the AMD E-450 APU as well as springing for the 4GB RAM option.
Read Our Hands-On With The New HP Pavilion dm1
$399 and up @ HP.com

Mimobot Flash Drives
Flash drives are a practical gift for students that usually rank right up there with socks and pajamas under the Christmas tree. Up the game by giving a Mimobot with character.
Mimobot flash drives come in dozens of fun designs, including licensed characters from Sanrio (Hello Kitty), DC Comics, Star Wars and Transformers, plus artist creations from Emily the Strange, tokidoki and other talented independents. Mimobots also come with exclusive content pre-loaded that ranges from wallpaper and icons, to videos and photos found nowhere else.
Not only will your kid keep track of these flash drives better if they love the character, their distinctive shape makes it hard to confuse them with other random drives lying around.
2GB – 64GB sizes are available.
$19.95 and up @ Mimoco

Mindflex Duel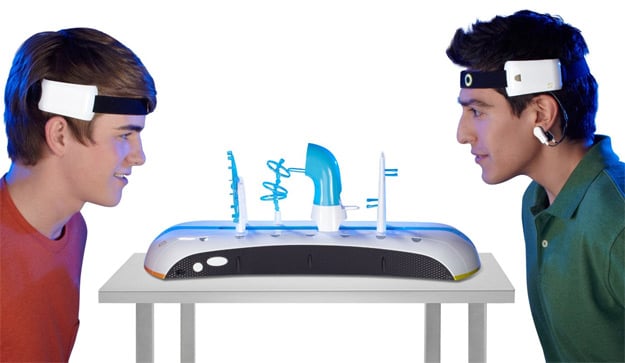 This is one of those toys that is as fascinating as it is fun to play. The concept is simple, but wrapping your brain around it is hard. In MindFlex Duel kids control a floating ball and attempt to navigate it through a series of obstacles all while another kid (or hapless parent) tries to do the same, pushing the ball back towards the opponent's side of the game. Each person must move the ball using only their minds.
Sounds science fictional, I know, but this actually works. Through the lightweight headset, the game measures brainwaves to determine levels of concentration. The more concentration you achieve, the more control you have over the ball.
Kids can design many different obstacle courses ranging from simple to complex or play interactive games solo or with a friend. Once they master it they may expect to control other objects with their minds. When that happens, I'm sure Professor X will be along shortly with an invitation to his special school…
$112 @ [amazon_link id="B004GHNFKK" target="_blank" container="" container_class="" ]Amazon[/amazon_link]

Wi-Fli RC Helicopter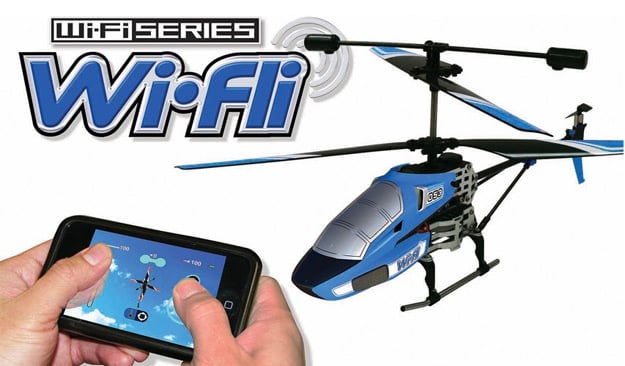 RC vehicles are still a favorite amongst older kids, if not their parents, but recently this old favorite gained a new twist: control via smartphone apps. The Wi-Fli RC Helicopter doesn't come with a controller. Instead, it connects to iOS or Android devices via Wi-Fi and kids can utilize a free app to zoom it around the backyard or the living room (probably the backyard…).
You don't need to be within range of a Wi-Fi router for this to work. The helicopter itself generates a Wi-Fi hotspot so a smartphone or tablet can connect directly. That means kids can fly it around even in the deepest woods (which may be the safest place).
The app utilizes the device's accelerometer and multitouch surface for steering and controlling. Once your kids get the hang of it, they'll be playing at rescue missions in no time.
Requires Android 2.1 and above or iOS 4 and above.