Gingerbread for Droid 2 R2-D2 Starts to Roll Out
After the Motorola Droid 2 and Droid 2 Global both got boosts up to Gingerbread, we figured it would only be a matter of time before Verizon's special edition Droid 2 R2-D2 handset would see the update and sure enough, shortly after the other Droid 2's got Android 2.3, owners of the Star Wars branded phone are now seeing the update rolling out over-the-air.
The update doesn't appear to be available for a manual grab which means that many of you out there might not be seeing the update right now. Be patient, it's coming and it probably won't be long until you're able to play around with your new software.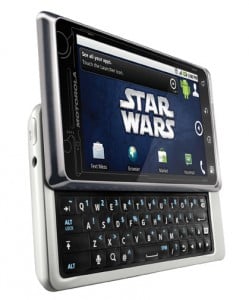 There are a ton of improvements and enhancements coming with the update and you can read about them all here. Some of the highlights include:
Device Features:
+ Improved battery life while using Wi-Fi
+ Keypad backlight turns on in low light conditions
+ Improvements in stability to prevent lockups, resets and "Force Close" errors
+ Improvements in screen display no longer causes display screen to turn black
+ Improved 3G data connectivity
+ Mobile Hotspot status is displayed accurately
+ Fixed issue that caused device reset and a black display screen after over the air upgrades
Sounds pretty good to us.
Anyone seeing the update yet, and if so, how's it treating you?
Via: Android Central

This article may contain affiliate links. Click here for more details.