Gingergread Update Returns to Kyocera Echo
After initial problems that Sprint and Kyocera had encountered with rolling out the Android 2.3 Gingerbread update on the dual-screen Echo smartphone, the carrier had subsequently halted the update to fix it and is now re-releasing the Gingerbread OTA update to Echo smartphones.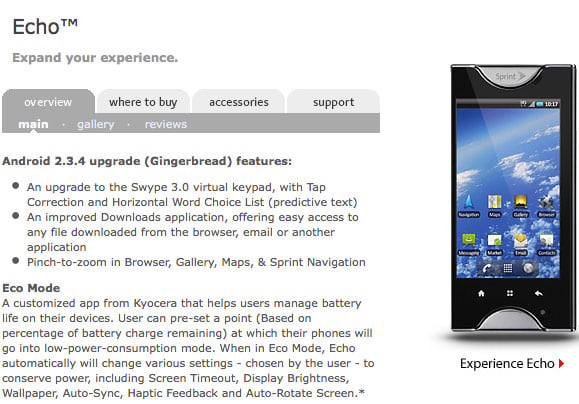 Customers who tried to install Gingerbread some ten days ago reported that glitches within the OTA package rendered their Echo handsets lifeless. As such, their Echo phones were bricked after performing the software update. However, the carrier had resolved whatever glitches there are with the original update, and is now re-launching Gingerbread for the Echo, which unfortunately still doesn't enable those hidden Easter egg features that we had heard prematurely before.
Sprint will restart the Gingerbread update to Kyocera Echo users beginning today (August 10). In an effort to provide the best possible customer experience, Kyocera and Sprint have addressed a previous issue with the update raised last week. The Gingerbread update will provide Kyocera Echo users with performance enhancements including faster response, improved power management, enhancements for gaming, and more. Every Echo customer should have the update within the next few weeks.
The update begins rolling out August 10th, and will take at least a few weeks to reach all Echo phones, so patience may be the key.
Via: Engadget

This article may contain affiliate links. Click here for more details.