GMail Updates Mobile Web App for iPhone and Android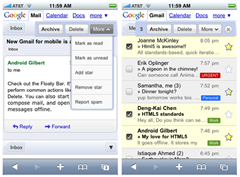 Google has updated its GMail Mobile app for the iPhone and Android, and I have to say they've done an excellent job. In my limited testing (very limited) it is faster as advertised (after it loads-that can take a bit) and the UI changes on the iPhone just make sense. Mail is now cached locally on the device using Google Gears so you can do some work when you're off line.
I like the way labels are displayed and I also enjoy the pop down menu from the More button. In fact it is just easier to operate than the previous web version of GMail. A lot has been crammed onto the screen and I can see where some may think it is a bit too busy (it certainly doesn't have that iPhone clean look) and in some instances the buttons and controls (which are smaller than before) are a little more difficult to grab onto and manipulate.  I guess it proves that design for the small screen is not an easy task for complicated applications.
Video demo after the jump.

As an Amazon Associate I earn from qualifying purchases.