Gmail vs Inbox: Which One Should You Use?
If you're a Gmail user, you've most likely been using the Gmail app or the stock Mail app on your iPhone or Android device. However, Google's Inbox email app is available to the public now, and here's how it compares to the company's Gmail app.
Essentially, Inbox is aimed at being Gmail 2.0 of sorts — a better version of the classic app if you will. At least that's what Google says.
The Inbox app takes what is great about Gmail and adds some more features to it, making it the all-star email app that includes every feature that users would ever want, and then some.
Inbox has been available for a while, but only to those who received invitations. However, Google made the announcement last week during its Google I/O 2015 keynote that the Inbox app is now available to anyone.
The app is available for download on iPhone and Android devices, and it's completely free. However, if you're not sure whether Inbox is worthy of a download, here's how Gmail and Inbox differentiate from each other and why you might prefer one over the other.
Gmail vs Inbox
One thing to keep in mind with Inbox, is that it's still technically Gmail in a way, but the user interface has received an overhaul and everything is presented in a fashion that Google thinks you'll like more than just the plain ole Gmail.
When opening up the app for the first time and simply just checking things out, you'll notice that Inbox bundles certain messages together. That's one of the biggest features of the new app.
This means that any emails relating to store promotions will be bundled together. Any purchases will be bundled together. Any travel emails will be bundled together. You get the picture. Google thinks this is a great way for users to quickly go through their email inbox, especially since you can mark all email in a certain bundle as read, instead of selecting certain emails individually.
Another neat feature of Inbox is the ability to snooze an email. So if you receive an email, but are a bit too busy to get to it right now, you can snooze it for a certain time later on and you'll be reminded about it again. It's almost receiving the email a second time, but only this time around it's arriving in your inbox when the time is convenient for you.
Furthermore, one of my favorite features of the Gmail web interface has made it to mobile for the first time through the Inbox app. On your iPhone or Android device, you can now undo a sent email. This isn't –and was never– possible in the Gmail mobile app, but users can now take advantage of it from within the Inbox app.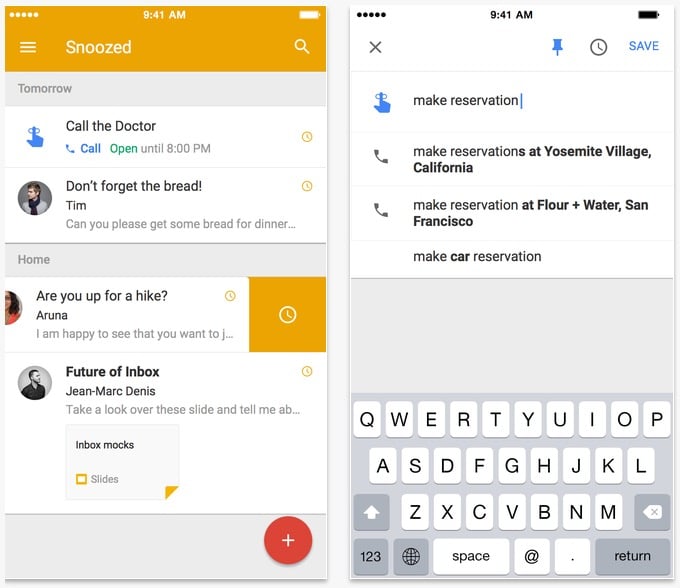 There are other smaller features of Inbox as well, such as settings reminders from within the app, pinning emails, setting priority for emails, improved inbox search, and even the ability to create your own email bundles.
The Inbox app is certainly a new take on email, and it's something that some users will enjoy using, but it's also an app that isn't for everyone. The idea of email bundles sounds good on paper, but for some users, it just won't work.
In fact, opening up the Inbox app for the first time and viewing your email inbox can be sort of a stressful experience. Email no longer appears in simple list form in reverse-chronological order, but rather in organized chaos fashion with added graphics to make everything look pretty.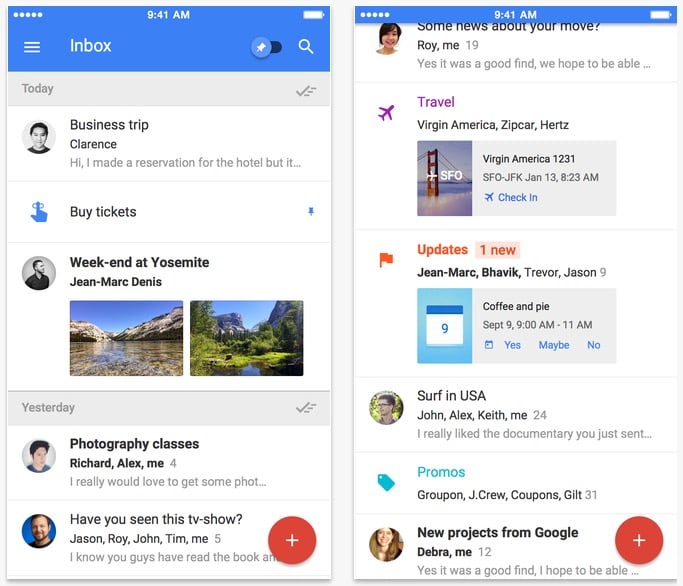 However, one aspect in where I found Inbox to be superior was with swipe gestures. To mark an email as "done," you can swipe it to the right, or swipe it to the left to "snooze" that email. Swipe gestures are something that the normal Gmail app seriously needs, and it's one thing that's holding it back big time.
Then again, I can't help but keep going back to Gmail, since it's a user interface that I'm used to and I like viewing my email in a simple format without any extra bells and whistles that I probably won't use.
In the end, Inbox takes the Gmail app and gives it a good dose of steroids. If you're someone that has been frustrated with the Gmail app and have been waiting for something better to come along, then the Inbox app is probably what you've been waiting for.
However, if you're happy with the Gmail app, there's really no reason to abandon it at this point. If it's not broken, then it doesn't need fixed. Sure, Inbox has some extra features that can make some users more productive, but the radically-changed user interface probably isn't worth the hassle of getting used to just to have some extra features that you may or may not use.

As an Amazon Associate I earn from qualifying purchases.