Gold iPhone 6 Concept Puts Rumors On Display
A new gold iPhone 6 concept delivers a stunning look at some of the latest iPhone 6 rumors just a few weeks before Apple is expected to take the stage and announce the new iPhone, its specs and the highly anticipated iPhone release.
In the past few weeks, we've started to see iPhone 6 rumors, iPhone 6 specs and iPhone 6 release date details emerge at an intense pace while Apple works behind the scenes on a device that's expected to replace the iPhone 5s as the company's flagship model. Apple's new iPhone release still isn't confirmed but thanks to these rumors, we now have a clear picture not only of the iPhone 6 release date but of the iPhone 6 itself.
For months, we've heard rumors regarding the new design. Recently, we've seen many of those iPhone 6 design rumors start to firm up, something that has helped to paint a vivid picture of the iPhone 6. Apple's new iPhone itself still hasn't leaked out but thanks to crafty designers, we've gotten a realistic glimpse at the real life iPhone 6 rumors.
Our friend Martin Hajek, known for his realistic smartphone concepts, recently created an updated version of his iPhone 6 concept, a concept that is based on iPhone rumors. The concept incorporates all of the latest design rumors into a stunning package that could closely resemble Apple's real version of its next iPhone.
In addition to those iPhone 6 renders, Hajek also created a gold iPhone 6 concept that borrows from the iPhone 6 rumors and delivers an all-gold iPhone. Minus the diamonds that make up the Apple logo on the back, this gold iPhone 6 is a gorgeous take on Apple's gold iPhone and a color that could potentially be c0ming with the new iPhone later on this year, sans diamonds.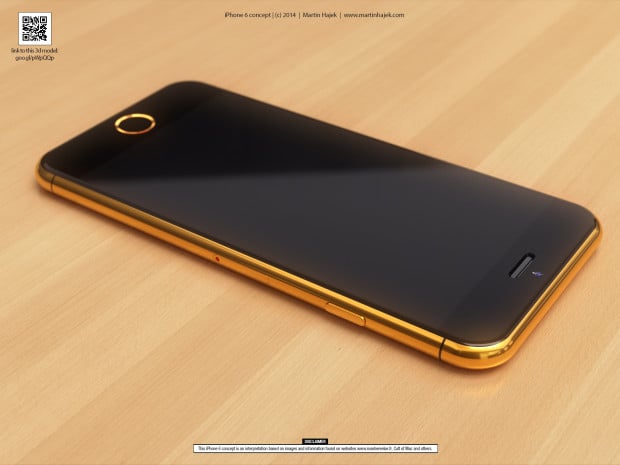 This gold iPhone 6 features a much brighter shade of gold than the gold iPhone 5s. It also features the design that's expected to arrive on this year's iPhone model. The concept shows off its rumored metal design that's supposedly going to be paired with Touch ID, a Lightning Port, and a slim form factor that could be as thin as 7mm. The current iPhone, the iPhone 5s, measures just 7.6mm thin.
We also get a glimpse at a larger display. The iPhone 6 is rumored to have a 4.7-inch and a 5.5-inch display with both models now rumored for release inside of 2014. The two iPhone models are also expected to deliver stunning screen resolution which could translate into better looking games, better looking web and a better looking iOS 8 operating system. iOS 8 is Apple's brand new iOS update and an update that's rumored to be coming alongside the iPhone 6 this fall.
Apple typically clamps down on full blown iPhone design leaks so iPhone concepts like Hajek's will probably be as good as we get ahead of the new iPhone release.
Hajek's gold iPhone concept arrives just a few days after iPhone 6 release date rumors began to firm up. With iOS 8 rumors pointing to a release in September, we've put together a possible iPhone 6 release time line for those that are interested in Apple's brand new iPhone release.
In summary, here's Apple's potential iPhone 6 release timeline:
iPhone 6 announcement on September 9th.
iPhone 6 release date on September 19th. (Or September 26th, another Friday in late September.)
iOS 8 release somewhere between September 9th and September 26th.
The latest iPhone 6 release date rumors suggest that Apple will announce both iPhone 6 models on September 9th but will only release one in September. The larger 5.5-inch iPhone will reportedly arrive later in the year, perhaps in October alongside Apple's iWatch, iPad Air 2 and the upcoming OS X Yosemite update for Mac.

This article may contain affiliate links. Click here for more details.