Google Adds Sitelinks and Quick View To Mobile Search
Today Google added sitelinks and quick view to its mobile web search to make browsing the web on any smartphone easier than it was before.
Sitelinks is the first of the two new features, and it lets users get to specific sections of websites directly from a Google search. The feature adds a number of links below a website in search that will bring the user to sections of the website they want to visit without having to click through the site's homepage.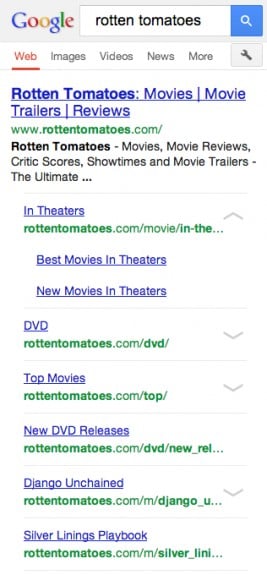 Google uses the example of Rotten Tomatoes to show off the new feature. Users who search for the website may want to go to the homepage, but they may also just want to see what movies are in theaters or what the top rated movies on the website are. With sitelinks users can go directly to those sections of the website straight from the Google search.
The feature is already available on the desktop Google search, but it's much more useful in mobile search where users don't want to click through multiple pages of a mobile website (or worse, a desktop website with tiny links).
The second big addition to mobile search is another feature that's already available on desktop search: quick view. Quick view lets users get a preview of a website before they actually tap on it so they know if they want to open the link of not.
In mobile search quick view will show up as a small blue badge near the search result. Tapping on the badge will show a cache of the website.
Quick view is only experimental at the moment, and only works on links to Wikipedia when searching in English, but it does that very well. The previews use Google cached versions of the websites, which load faster than Wikipedia itself and show all of the same information. The feature may roll out to support more websites soon, but it likely won't show entire web pages like it does for Wikipedia.

As an Amazon Associate I earn from qualifying purchases.