Google+ For Android and iOS Updated With Communities Support
Today Google updated the Google+ apps on both Android and iOS with a number of great features, some that come to both versions, and some that are exclusive to either platform.
The new apps bring a new design to both platforms with a few minor changes. The feed still looks the same in both apps, but now each app has a menu bar at the bottom of the screen that disappears when scrolling down through the feed. The menu bar makes it easy to share photos, places, links or text status updates to Google+.
The sidebar is also changed in both apps to add lines for new features, and to simply notifications. Notifications now appear directly in the sidebar instead of in a separate menu.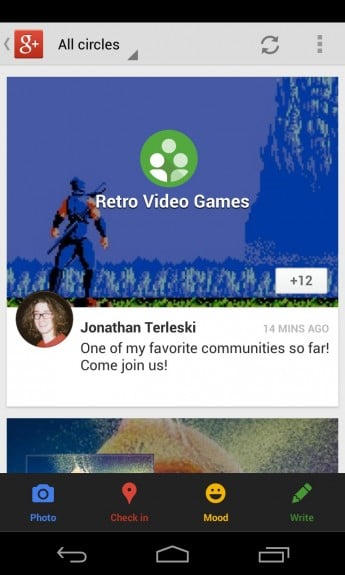 Both Android and iPhone users now also have access to Events and Communities in the Google+ app. Communities is a new feature to Google+ which works similar to Facebook's Groups. In Events mobile users can now send invites to individual people and see who opened their invitations.
The final update for both platforms is low-bandwidth Google Hangouts. Now Hangouts only need 150 KB of bandwidth to work, which means anything faster than dial-up is fast enough.
For Android users Google has a number of exclusive features. With the new update Android users now get 5GB of free storage for full-resolution backup photos on Google+. Users still get unlimited storage for 2048px photos. Android users can also view and post photo spheres to Google+. Users need Android 4.2 Jelly Bean to take photo spheres, but only need Android 2.2 Froyo or higher to view them.
Android users also get animated gifs, mood gifs, birthday reminders in Google Now, and a new lock screen widget.
For iPhone and iPad users Google added the ability to swipe through photo albums in the main feed.

As an Amazon Associate I earn from qualifying purchases.