Google Celebrates 10 Billion Apps Downloaded with 10 Cent Apps
If you're Google and your Android Market just surpassed 10 billion apps downloaded, how would you celebrate? Well, by offering up $.10 applications of course. That's right. Google is currently offering up a "10 Days of Offers: Top Premium Apps, 10¢ Per App" sale on the Market that includes a number of applications that  probably have been on your radar.
Yeah, that whole 'premium' thing is not a gimmick. Google really means it.
Google will be switching out the applications every day and the applications that are on sale today are a sign of the good things to come.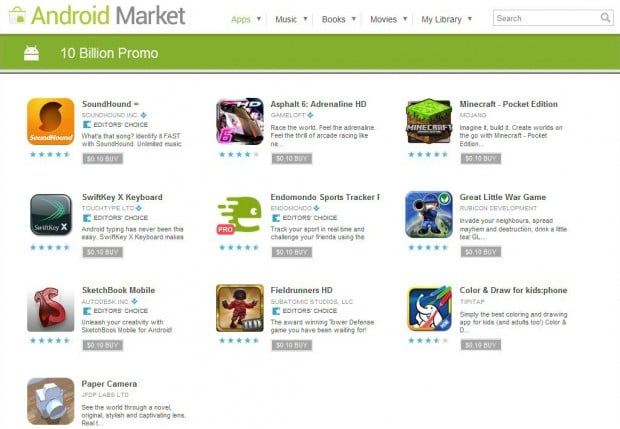 Here is the full list of apps on sale for $.10 today:
Asphalt 6: Adrenaline HD
Endomondo Sports Tracker
Color & Draw for Kids (Phone)
Fieldrunners HD
Great Little War Game
Paper Camera
Minecraft – Pocket Edition
SoundHound
Sketchbook Movile
Swiftkey X
Not a bad selection, not bad at all.
So, if you own an Android device, keep an eye out over the next 9 days to see what Google cooks up.
Via: Android Police

As an Amazon Associate I earn from qualifying purchases.