Google Games: Multiplayer Gaming, Cloud Saves Come to Android (Video)
Today at Google I/O Google announced its new Google Play Game Services which will bring cloud saves, achievements, leaderboards and easier multiplayer to Android games.
The new Games Services in the Google Play Store will bring a lot of the features of Apple's Game Center and iCloud service to Android devices. With the new features Android gamers will have the chance to compete with their Google+ friends and other gamers around the world through leaderboards.
The new services also let gamers play against their Google+ friends at the same time with new multiplayer support. Google tried to demonstrate the service on stage with Riptide GP2 on three Android tablets, which showed a few options to play with friends or random other games. Unfortunately, the demo didn't work on stage.
Google Play Game Services also brings cloud saving to Android devices, which will let users start a game on one device and pick it up on another device like Apple's iCloud service. The new feature will make it so Android users no longer have to choose between which device they want to play a game on, they can just play the same save game on all of their Android devices.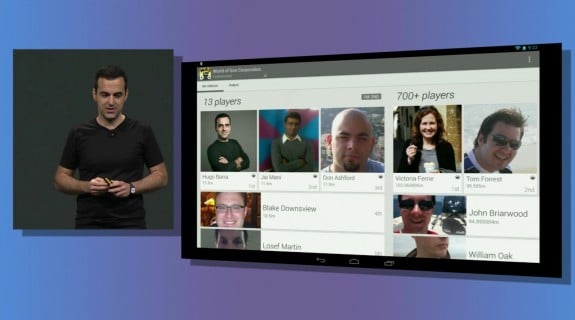 There's no more replaying missions in an action game or unlocking the same vehicles in a racing game, assuming the games support the new feature.
Game Services will also introduce achievements to games, giving gamers virtual badges when they accomplish certain tasks in their games.
The new Google Play Store Game Services will start to rollout to users today. The new services will work on all Android devices running Android 2.3 Froyo or above, which means users don't have to have the latest and greatest Android device to get the new game services. Users just have to wait for developers to integrate the features into their games.

As an Amazon Associate I earn from qualifying purchases.