Google Giving Preferential Treatment to Xoom Owners for Google Music Invite?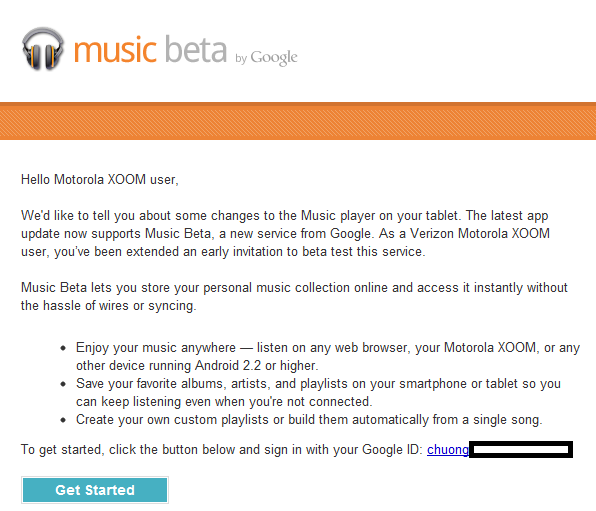 Josh had received his invitation for Google Music and had given his brief hands-on impressions earlier this morning, and it appears that while invites to the masses has already started rolling out for the service, Google may be giving preferential treatment to Xoom owners. While I had signed up for the Google Music service, still a beta product as it stands, with my normal Gmail account, I had associated some testing accounts that I had set up with the Xooms that I had tried out. While my application to receive an invite on my normal account has still not returned an invitation to trial the music service, i was greeted with an invitation in my test accounts that were associated with the Motorola Xoom tablets that I had tried. Given that the email began with 'Hello Motorola XOOM user,' it seems that Google may be hawking invites to early adopters of the Android 3.0 Honeycomb device, which was recently updated to Android 3.1.
Given that Google is rolling out invites to everyone, including Xoom owners, if you're dying to get your hands on Google Music, it may help your odds to enter the early trial if you're a Xoom user.
For those interested in Google Music, you can also read Josh's take on cloud-based music services.

As an Amazon Associate I earn from qualifying purchases.