Google Introduces New Google+ Features, Hangouts App
Today Google introduced a number of new features for Google+, including a new mobile-inspired stream for the desktop and a new Hangouts app.
Later today Google will introduce a new layout to Google+ on the desktop, which looks just like the stream on the current Google+ app for smartphones and tablets. The new stream uses multiple columns depending on the size of the browser window. Users can always switch back to a single column if that's what they prefer.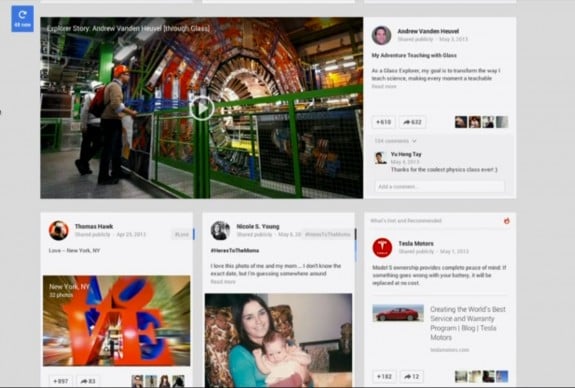 The new stream will highlight media such as videos, stretching them across multiple columns, making them easier to see. The new layout will also include new animations for the status update box and related hashtags so users can easily see all hashtags that may also apply to a post. The new hashtag feature can even identify landmarks such as the Eiffel Tower and hashtag them automatically so users don't have to.
On the mobile side Google announced its new Hangouts app, a new way for users to chat across all devices. Hangouts will let users talk with friends and family across Android, iOS and the web easily. The new Hangouts service send text, photos and videos to their friends and family regardless of their device.
Hangouts will save all messages in every app, so users can go back and see every word typed or photo sent since the beginning of the Hangout. Users can always go back and delete things later, should they find the need to.
Like Google's current chat services, Hangouts let users talk to multiple people at once. The app will show users every user that is currently involved in a chat by displaying their profile photos just above the text box. The images will animated when users are typing, and if a user leaves a chat their profile image will show up next to the last message they saw.
Of course, Hangouts will also support video hangouts. Just tapping on the video icon at the top of the app will start a video chat with everyone involved in the Hangout.
The new Google Hangouts app is available for iOS in the App Store and in the Google Play Store for Android.