Google Keep Challenges Evernote for Top Android Note Taking App
After accidentally revealing the service a few days ago today Google announced Google Keep, the company's new note-taking app.
Google Keep is part of Google Drive and it helps users create and store quick notes, lists and voice notes. The service can also store images for use later as well as transcribe voice notes into text notes.
Google Keep seems similar to Evernote, albeit it with fewer features. Like Evernote the service lets users create and store notes easily. Unlike Evernote, however, Google Keep can't recognize words or phrases inside images.
With Google Keep users can color code their notes and lists, which may make them easy to remember later. Google relate the service to sticky notes, which the interface of the service seems to imitate.
To go along with the new service, Google released a free Android app in the Play Store. The app can access all the same information as the desktop version of the service, but only users with Android 4.0 or above can use the app. Google's app comes with two widgets: a bar that lets users easily create notes and a box that can display some of the user's notes.
On Android phones, the Keep app looks almost like the Windows Phone 8 Start Screen or HTC's BlinkFeed. The Android tablet app looks more like Pinterest or the Google+ tablet app.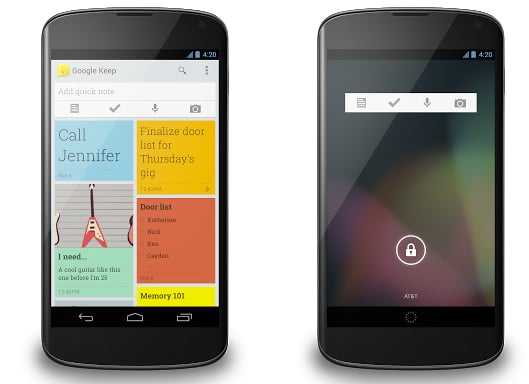 iPhone users interested in using Google Keep can access it from the desktop website here. As of this writing, the website only shows an error message on both the iPhone and desktop, but it should work sometime in the near future.
There's no word on an iPhone app coming to the App Store yet, so iOS users will have to stick with Evernote, Apple Notes or another note-taking service if they don't want to use the web app on their phone.

As an Amazon Associate I earn from qualifying purchases.