Google Makes Key iPhone Feature Even More of an Also-Ran
Apple's decision to not significantly update the systems behind the iPhone's Siri personal assistant is slowly but surely starting to become a reason to buy a smartphone running Google's Android operating system instead of the iPhone. Earlier today, Google revealed Google Now integration, a program that lets developers surface cards in its Google Now search assistant.
Airbnb, Pandora, Ford, Waze and Walgreens are just some of the apps that will integrate with Google Now going forward, according to a list posted. Google detailed the new functionality in a post on its Inside Search blog this afternoon. Starting with the next Google Search update, apps in the program will get direct integration with Google Now.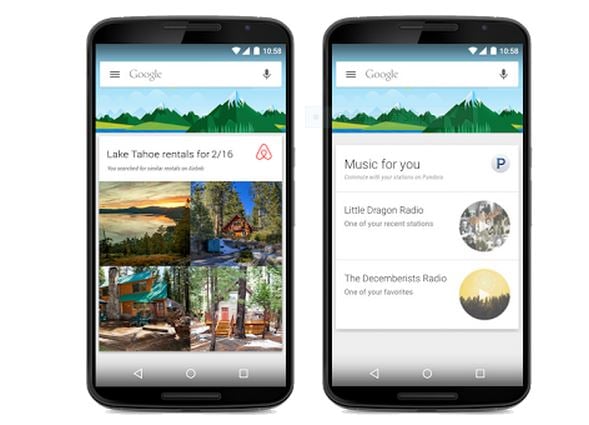 This integration will take the form of new cards with information that Google Now doesn't provide today. For example, owners of a news app like the Guardian will find that there is a card with the latest headlines and information. Online radio service Pandora will surface new station recommendations in a Google Now card of its own. The roll out is pretty small for an operating system with as many apps as Android. Google says it's working with over 30 individual developers to get new Google Now cards powered by popular apps.
Pandora, Airbnb, Instacart, Shazam, Lyft, Trip Advisor, Kayak, Walgreens, eBay, Ford, Waze, Strava, Duolingo, The Economist, Intuit, The Guardian, Belly, Coinbase, Redfin, Zillow, Life360, HootSuite, Wattpad, Runtastic, Delivery Hero, Runtastic Me, Hailo, Mytaxi, Bussuu, CrincinfoESPN, Housing, Fandango and Avis are among the notable Now Cards on the way.
Today, every developer can't create a Google Now card for their app, but Google does say that it plans on letting developers know when the feature is ready for all apps and that's why Apple should be worried. It's a tacit admission that the integration is coming at some point.
When it debuted in the iPhone 4s, Siri was unique. For the first time users didn't have to stare at their screen or deep dive into their search app for the latest weather reports and information about local restaurants. Instead, millions of users start performing searches with just their voice. Apple layered in basic remote functions like turning on Airplane Mode and playing music, but getting information with as little effort as possible was always Siri's big draw. Siri is one of the iPhone's most important features, mainly because it's so easy for users to understand. Apple even built a portion of its ad campaign for past iPhones around Siri.
Siri seems to have inspired Google Now and there's no doubt that Microsoft took a look at what Siri could do before building out Cortana, Windows Phones personal assistant. In recent years, Apple has let Siri fall a bit behind. Cortana for Windows Phone includes app integration so that developers can add phrases that deep link into their apps. On Windows Phone there are third-party apps that can be opened with a voice command. For example, Huetro for Windows Phone lets users change the color of their Hue Lightbulbs directly from Cortana. With Google Now cards for apps on the way, Siri is left as the last voice assistant and search tool that doesn't let developers integrate in any meaningful. Over time that could give Google Now and Cortana the advantage they need to chip away at one of the iPhone's key features.
The last major feature to come to Siri on the iPhone was the always listening feature included in iOS 8. With it iPhone owners can give Siri commands and perform searches from across the room – provided their iPhone is plugged in.
Google says a few apps have Google Now integration now, it'll begin rolling out more over the next few weeks. It didn't provide a time-table on exactly when Google Now cards for apps would be widely available to all developers.

As an Amazon Associate I earn from qualifying purchases.