Google Maps Update Delivers New Features, Apple Waits for iOS 8
Google Maps for iOS and Android has been updated today with several new features and improvements that give a generous boost to the app's turn-by-turn navigation capabilities.
The biggest feature is perhaps the addition of lane guidance, which tells drivers what lane they need to be in when it comes to merging with traffic or getting to the off-ramp. Many navigation apps and dedicated GPS units have had this feature for a while, but this is the first time that it's arrived on Google Maps.
Furthermore, downloading and saving maps for offline use is a lot simpler now. All you have to do is find the area you want to save, tap on its info sheet, and hit "Save Map to Use Offline." Google will now also sync your offline maps and saved locations across devices, just as long as you're signed in to your Google account on all of your devices.
Google Maps now has new filters that let users browse restaurants and venues based on opening hours, rating, price and other factors, and specific points of interest can be saved in the app.
Transit directions have also gotten a nice little boost, in the form of now showing you the total walking time, as well as when the next departing train will leave. The apps also comes with an improved view of your distance, ETA and easier access to alternative routes.
Plus, if you have Uber installed, Google Maps will now show it as an option in transit and walking directions, so you can decide whether a cab or the subway are better choices, or if Uber is the way to go. Of course, Uber is only available in select cities in the US, so it won't show up if you're in a smaller city that Uber doesn't have service in.
So Long Apple Maps
Ever since the introduction of Apple Maps in 2012, the company has been hearing all sorts of grief about the app's botched execution. Tons of users have had issues with Apple Maps, from funky-looking Fly Over graphics to inaccurate turn-by-turn driving directions. Apple CEO Tim Cook even apologized for the awfulness that has been Apple Maps.
During this time, Google has swooped in and re-released its Maps app on iOS; if you recall, Google was the main provider of Apple's built-in Maps app before the Cupertino-based company decided to make it their own.
Google has been continuously updating its Maps app with new features and better performance, making it one of the best options for navigation on iOS and leaving Apple Maps in the dust.
Of course, where Apple Maps really shines is its integration with the iOS ecosystem. Apple Maps integrates with other Apple services, including Siri, Safari, Mail, Calendar, and pretty much any other built-in app on iOS. This is probably why a lot of people still use Apple Maps, and I can admit myself that I use Apple Maps at times only because it integrates smoothly with Siri.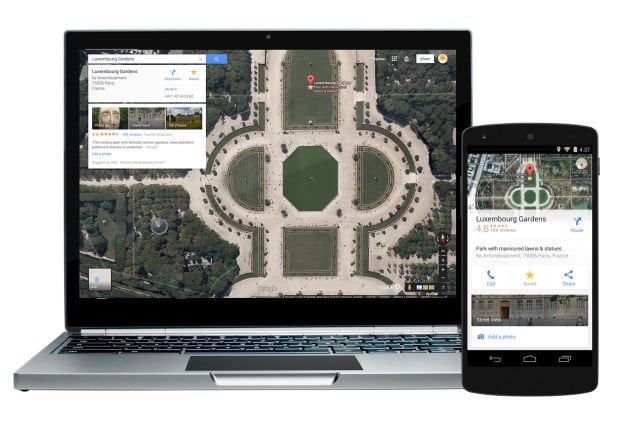 However, many folks have discovered that Google Maps provides the best experience when it comes to map data and accurate navigation, and today's update simply brings more of that to the app, including lane guidance. Plus, Apple Maps has yet to include public transit directions, and that's one area that Google is dominating at, while Apple is still left in spring training.
It's rumored that iOS 8 will include a huge update to Apple Maps, including the addition of public transit finally, although it could be pushed back until iOS 8.1 releases, meaning iOS users will have to go longer without built-in public transit directions. Apple has said in the past that Apple Maps will get public transit data eventually, but no timeline has been set yet.
In the meantime, we should see Google Maps continue to take off while Apple slowly improves Apple Maps. iOS 8 is rumored to be unveiled next month at the company's WWDC developers conference, which is where we might see the big Apple Maps improvements, but so far the company has done little to vastly improve one of its worst software products ever made.
The new version of Google Maps is available for iPhone and iPad in the iTunes App Store, and is also available for Android devices in the Google Play store.

As an Amazon Associate I earn from qualifying purchases.