Google Music Beta Hands On and First Impressions

Google launched the Google Music Beta, an online storage space for up to 20,000 songs, web player and Android App, at Google I/O last week. WE just got access to the service and have started to put the cloud music service through its paces. Google Music is currently in an invite only beta, which you can sign up for here, but unfortunately we don't have any Google Music Beta invites to hand out right now.
Google Music Beta – Upload Process
To get started, Google will pre-populate your account with some free music, but for the most part you'll want to skip this part and get straight to your music — that is, after all the purpose of Google Music. When you signup you'll be asked to download the Google Music Manager. This tool allows you to import music and playlists from Windows Media Player, iTunes and My Music Folder or to choose you music folders. After finding an external hard drive with our music collection, a task in itself, we began to upload around 2,000 songs to the Google Music Service.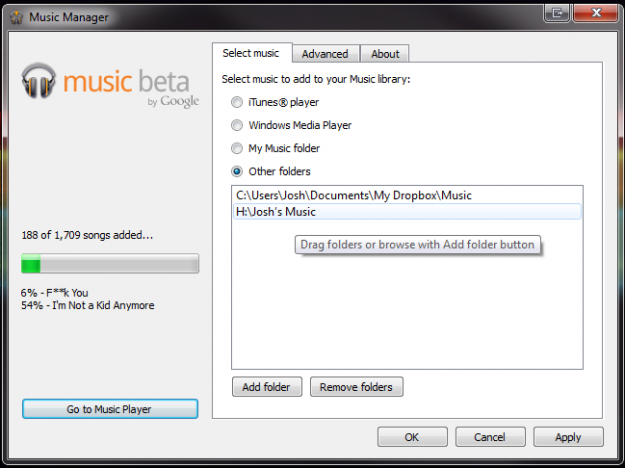 The upload process will be impacted by your internet connection, but we've found it is quite slow even for our Time Warner connection. In roughly 12 hours we were able to upload about just under 200 songs. The process was slowed down by the fact that this is a beta service and we had to resign into the Music Manager with our Google credentials a few times. From this point out, the Music Manager will upload your music files to the cloud and can check your folders or music players for new music and playlists to keep your cloud music up to date.
Web Playback and Management
After you upload some music, you can manage your music and create playlists from the web and manager your music. You can even delete songs from the web interface which is a nice touch. The online player is pretty straightforward and offers a clean interface to playback your music.  Perhaps the best part of the interface is the search which will help you find the song, artist or album you are looking for, even while you are listening to music. Unfortunately, for being the best part of the interface, it is flawed. While a Google search for an artist like "Jay Z" will return results that are similar, searching Google Music for "Jay Z" doesn't show you any results tagged as "Jay-Z".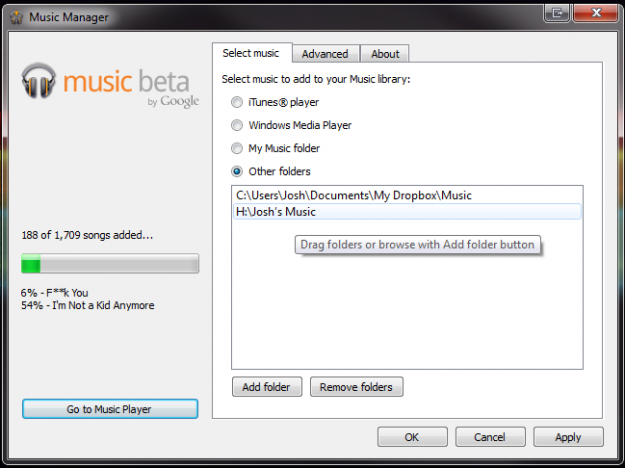 The music player will allow you to create a playlist from your songs, or if you prefer will create an Instant Mix of similar songs, just don't expect Pandora quality matching songs. When creating your own playlist, you just need to drag the song title to the playlist on the right, similar to how you would in iTunes. If you want to browse by artist, album or genre you can do that, as long as you've taken the time to make sure your music is tagged correctly. Google Music appears to be going out to get album art for many of our songs, which is a nice touch.
Google Music Android App
The big seller for Android owners is the new Google Music Android app which allows you to connect to Google Music  Beta and play your 20,000 songs when you have an internet connection. The app is nice looking and works good even on a 3G connection with just a bar or two of coverage. We didn't find ourselves waiting for music to load in between songs yet.
On the Google Music Beta Android app you have access to many of the same browsing and playlist creation features. We found that the changes to playlists and song info appeared almost immediately in the Android app. The interface is appealing and intuitive, which is helpful. Additionally, if you have locally stored media, you can access it right alongside your cloud music. You can tell the app to make an album available offline, but there don't appear to be similar options for playlists or individual songs which limits the usefulness.
Closing Thoughts on Google Music
Google Music is a free beta service so it's hard to complain about a lack of certain features to loudly. If you want a place to put your music in the cloud for free, it looks like a good choice for you. Unfortunately, Google Music isn't for me. At least not as something more than a place to keep a few songs that I can't listen to on Pandora or Rhapsody. We'll keep you updated on the Google Music changes and perhaps I'll come around down the road.

As an Amazon Associate I earn from qualifying purchases.