Google Music Player 3.0 Hits the Android Market
Google Music Player 3.0 has hit the Android Market which means that the software that will allow Android users to sync up to Google's new Music Beta service is now available for download.
Earlier today at its Google I/O event in San Francisco, Google announced the beta version of its new Music service which will allow Android device owners to effortlessly upload music to the cloud and play that music using a computer or an Android phone or tablet. The service remains free for up to 20,000 songs.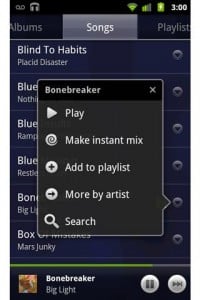 Google Music Player 3.0 is the software you need to make the sync to the cloud happen so if you've signed up for the beta, you are going to want to download this. It includes a new UI and it will also work for Android owners who don't want to get down on the Google Music Beta, although, we don't know why you wouldn't want to.
You can sign up for the beta for Google Music here and you can find Google Music Player 3.0 on the Android Market here.