Google Nexus 10 Back In Stock in Google Play
Google and Samsung's Nexus 10 tablet is now back in stock after being unavailable in the Google Play store since before the holiday season..
The Nexus 10 Android tablet is now available in the Google Play Store starting at $399 and shipping in "less than one week." The $499 32GB model of the 10-inch tablet will also ship in "less than one week" from the Google Play Store.
The Nexus 10 is the first 10-inch Android tablet to run Android 4.2 Jelly Bean, and the first 10-inch tablet to feature a 2560×1600 resolution. The resolution on the 10-inch Nexus 10 is the same as the display on the 13-inch MacBook Pro with Retina.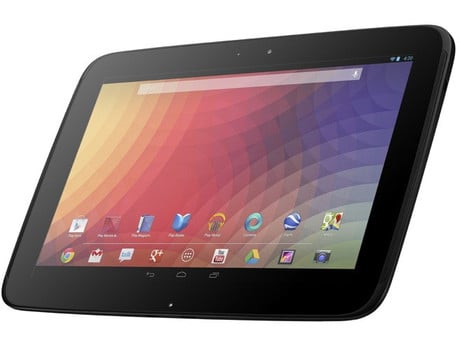 With Android 4.2 Jelly Bean the Nexus 10 uses a UI that's similar to Android smartphones and the Nexus 7 with a row of virtual buttons on the bottom of the display and a menubar along the top. The OS also lets users have several accounts on the same device. The Nexus 10 is one of the few tablets that can have different settings and homescreens for different users, making it an easy tablet to share with family members without fear of them reading email.
Like other Android devices running the latest version of the OS the Nexus 10 can also use Google Now. The service is most useful on smartphones that users take with them everywhere, but the data from those smartphones will sync to the Nexus 10 as well. Because the data syncs the Nexus 10 lets users more of their Google Now cards at once.
Google advertises the Nexus 10 as a great tablet for watching movies and reading magazines from Google Play. The high-resolution display should make the tablet great for media consumption, but the tablet can fall short when it comes to apps. There aren't many Android apps made for larger tablets. Most Android apps will show as stretched out versions of phone apps.