Google Nexus 7 Release Date In Limbo
While we had thought that the Google Nexus 7 might launch tomorrow, July 12th, it appears that that date may not be the Nexus 7 release date after all.
Yesterday, an internal document from Office Depot emerged which indicated that the Nexus 7 might launch tomorrow, at least at Office Depot.
However, a new document that has surfaced at Droid-Life, again from Office Depot, indicates that the retailer has delayed the device's launch for unknown reasons.
Read: Why I Pre-Ordered a Google Nexus 7 Tablet.
Stores that have received shipments of the device are not supposed to display or sell the device until further notice which leaves the Nexus 7 release date in the shadows once again.
It's still possible that it could launch elsewhere tomorrow, and just not at Office Depot, but it would be strange to see the retailer launch after the official launch date, especially if devices are already trickling in.
There is no word as to why Office Depot won't be sticking to its original Nexus 7 launch plans and we doubt the retailer, or Google, reveals why the "delay" occurred.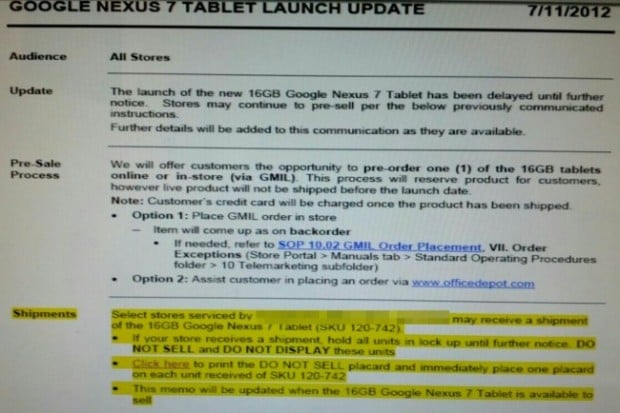 In any event, the Nexus 7 release date appears to be close as Google's own store lists the device as shipping out in 1-2 weeks, a sign that a launch is imminent.
Google has yet to provide consumers with a specific release date but it has said that the device would hit shelves with Android 4.1 Jelly Bean on board in the middle of the month which means it still has a few days to make good on its promise.
Keep an eye out for an official release date soon.
The Nexus 7 features a 7-inch display that will feature 1280×800 resolution. It will feature a Tegra 3 quad-core processor from NVIDIA. It also features a front-facing camera for video chatting purposes, Wi-Fi, Bluetooth support, and up to 9 hours of HD video.
When it goes on sale, the Nexus 7 will be available in two variants including a 8GB Nexus 7 for $199 and a larger 16GB Nexus 7 for $249.
It also has a hidden feature in that it has support for a magnetic smart cover, something that Google did not unveil at Google I/O or in the device's listed specs.
It's unclear if Google's Nexus 7 cases will support the hidden feature.

As an Amazon Associate I earn from qualifying purchases.