Google Now Allows Desktop Users to Download Entire Google Music Library
The good thing about Google Music when it rolled out was that users can upload their music library to the cloud. Then, Google added a music store, much like iTunes, and allowed users to download their individual track purchases to their devices or desktop, or stream them from the cloud. But if you want to maintain an ecosystem on your computer and rather not rely on constant Internet connectivity to stream, or proceed to tirelessly download your entire cloud library track-by-track, now you can thanks to an updated Google Music feature.
A new Music Manager for Google Music now allows users of Google's ecosystem to download their entire music library to their computers so you don't always have to rely on the cloud. The new Music Manager program allows users to either download their entire music library–including user-uploaded tunes–or just the songs and albums purchased from Google Music.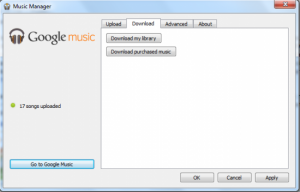 The move is somewhat surprising as Google Music doesn't yet have a stand-alone music player, like the Zune program for Windows PC or Apple's iTunes client for Windows or Mac. Additionally, Google has always boasted about an untethered, PC-free experience for its Android phones, of which Google Music is now a central part of, and so the new PC-centric experience is an anomaly. Whatever the case, now you can easily merge your DRM-free iTunes and Google Music purchase into one space on your hard drive.
Via: Phandroid