Google Now May Come To Google's Homepage
Google may soon expand Google Now to all Google users by adding it to the Google homepage.
Google Operating System found mentions of Google Now in the source code for a page that Google is in the process of testing. The code makes several references to Google Now, including lines that will introduce the user to the service such as "Get started with Google Now. Just the right information at just the right time."
The code also has a few lines that describe what Google can do with information. Another line says "Google Now uses your Home location to show relevant information like weather, traffic conditions, and nearby places."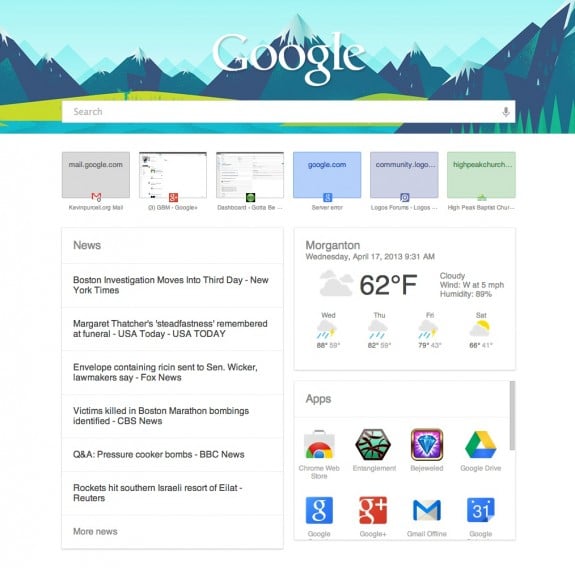 The descriptions sound very similar to Google Now for Android, and include a few references to Now cards, the boxes which show bits of information in Google Now. If Google pushes the code to the desktop it will make the service easier to access for Android users, and may push some users to wonder why they don't have it on their phones yet.
Bringing Google Now to the web is strikingly similar to Apple's strategy of bringing parts of iOS to the desktop in recent iterations of OS X. Some Apple fans don't like the trend of bringing the two systems closer together, but Google likely won't have to worry about that.
Possible plans to bring Google Now to the web won't fundamentally change how people interact with their computers, but it may make some things easier. Google will likely give users a way to opt out of Google Now as well, should they want to.
Recent rumors suggested Google Now may also come to future versions of Google Chrome on the desktop and Chrome OS, likely as an extension to the web version. There's also a chance that Google will bring the service to iOS sometime in the near future as well.
If Google does have plans for Google Now for iPhone and the web, Google I/O seems like the natural place to announce those plans. Google will also likely announce the Android 5.0 Key Lime Pie at the event next month.

As an Amazon Associate I earn from qualifying purchases.