Google Now Voice Search to Get Smarter and More Chatty Next Week
A rumored planned upgrade to Google Search, which powers Google Now on Android, will give the digital voice assistant app a more conversationalist approach a la Siri. According to Wired writer Matthew Honan in his review of the Nexus 5, the added voice and speech features of Google Search and Google Now will be arriving on November 13th, likely through a software update on the Google Play Store.
At this time, it's unclear if those added features to Google Search will be appearing only for devices running Android 4.4 KitKat or only for the Nexus 5, or if those features will more broadly hit older Android devices. Hopefully, it will be the latter as those features will make commanding your Android phone by voice that much more easier to use.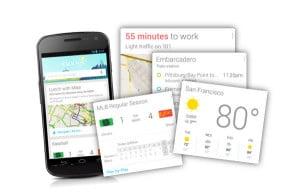 Ask a command and Google Search will respond in kind with a voice answer, similar to Apple's Siri assistant on the iPhone.
"You might say "text Jennifer" and it will reply "which Jennifer," and then ask you to dictate the message," Honan wrote.
Currently, Google Now and Google Search do not offer such a conversational approach to voice commands. Voice speech is typically just one-sided with the user offering the voice command and Google Now displaying textual on-screen answers. Having voice will definitely make Google Now easier to use, especially when users are trying to command tasks or quickly look up something when their hands are occupied, like in a car. If Google manages to ink partnerships with auto-makers, Google Now could potentially take on Siri in the Car, an initiative that Apple introduced with iOS 7 along with the earlier Siri Eyes Free.
The move makes sense given Google's recent move to separate the text-to-speech engine in Android as a piecemeal download and update through the Play Store. By de-coupling TTS from the Android system update, Google could update voice and speech engines more rapidly rather than waiting for a system-wide update of the OS, and this could pave the way to Google Now's conversationalist approach that's said to be coming next week.
Beyond a chattier Google Search, Honan also says that Google Now will better integrate with third-party apps. Searching for a restaurant could allow you to also make reservations quickly using OpenTable in one example.
"So, you might search for a restaurant, and an option in the results shows up for OpenTable, which you'll be able to fire up and make a reservation," Honan described. "It's also going to use location cues to drop cards into Google Now, even more so than it does currently."