Google Now Widget Lands with Latest Google Search Update
Today Google announced a new update to its Google Search app for Android which adds the rumored Google Now widget for phones running Android Jelly Bean.
The new Google Now widget gives Android users access to a small selection of the Google Now cards on their homescreen or lock screen. With the widget users can easily see information from their top few cards in Google Now without opening the app. Tapping on a card in the widget will bring the user that particular card in Google Now.
Users can determine the number of cards the widget shows by changing the widget's size on the homescreen.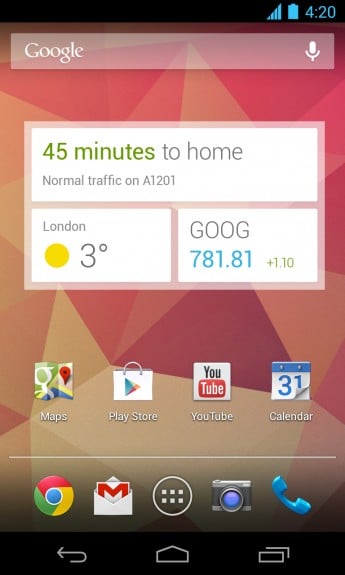 The new Google Search update also brings new functionality to Google Now. The service can now also show movie passes from Fandango similar to Passbook on iOS. To use the feature users just have to buy movie tickets through the Fandango app, the card will show a QR code the theater can scan for entry into the theater without the need for a paper ticket.
The app will also now show movie ratings from Rotten Tomatoes so users can easily find ratings for movies they may want to watch.
Other features include real estate listings from Zillow for users interested in buying a home and the ability to track college sports, just in time for March Madness next month.
Google Now is available to all Android devices running Android 4.1 or Android 4.2 Jelly Bean. The feature competes with Apple's Siri, but also does a lot more to help users whenever it can. Google recently highlighted the feature in its latest commercial for the Nexus 4 smartphone.
The new update to Google Now brings the feature to the homescreen for the first time, making it easier for Android users to access. The addition of the widget seems small, but it makes the automated features of Google Now easier to see at a glance.

As an Amazon Associate I earn from qualifying purchases.