Google Pixel XL 2 Leaks Bring Rumors to Life
The Google Pixel 2 release date is coming up fast and as a result, more rumors and details continue to surface. In the last few weeks, we've received tons of new information along with the first unofficial photos confirming the design. Now, a brand new Google Pixel 2 concept video is bringing the latest rumors to life.
At this point, it is pretty clear that Google will once again release two Pixel phones in 2017. One is very similar to the original Google Pixel, while the bigger Pixel XL2 is getting a complete redesign.
Read: Google Pixel 2: 5 Reasons to Wait & 3 Reasons Not To
Rumors suggest the Pixel XL 2 will have a 6-inch OLED edge-to-edge display. By trimming the black bars and bezels around the screen, Google is able to offer a large screen in a small yet portable package. Something we've seen from the Galaxy S8, LG G6, and likely the upcoming iPhone 8.
With the release date under three months away, potential buyers are weighing their options and wondering if it is the right phone for them. To help you make the right decision below is everything we know so far and some new photos showing you what to expect. Then, a new video based on leaked blueprints, which should be a rather accurate portrayal of Google's next big phone.
Building on the success of the original Pixel, Google will once again release two smartphones later this year. The first is the regular Pixel, with a similar look, feel and design as last year. Offering a 5-inch screen with the latest specs and upgrades, although it could be priced very competitively.
What's exciting though, is the bigger model of the two. The Google Pixel XL 2 will deliver a massive 5.99-inch display made by LG. In fact, LG is manufacturing the entire phone for Google. As a result, it may look like a mix between the original Pixel XL and the well-received LG G6. What you see below is a render created from the information provided by AndroidPolice. Showing how the Pixel XL 2 may look compared to the original Pixel and Pixel XL released in 2016.
Here we see the new Pixel XL 2 and its large screen. The smaller bezels around the display allow for more screen real estate without making the phone physically bigger. Information suggests Google will stick to a single rear camera and place the fingerprint scanner below the glass "window" on the back.
This shows a phone very similar to the original, keeping the brand identity while managing to offer a premium up-to-date design that can compete with Samsung and Apple. We're hearing the smaller Pixel will not have an edge-to-edge display like its bigger brother. Here's another photo bringing rumors to life showing the Pixel XL 2 in the popular "Very Blue" color option.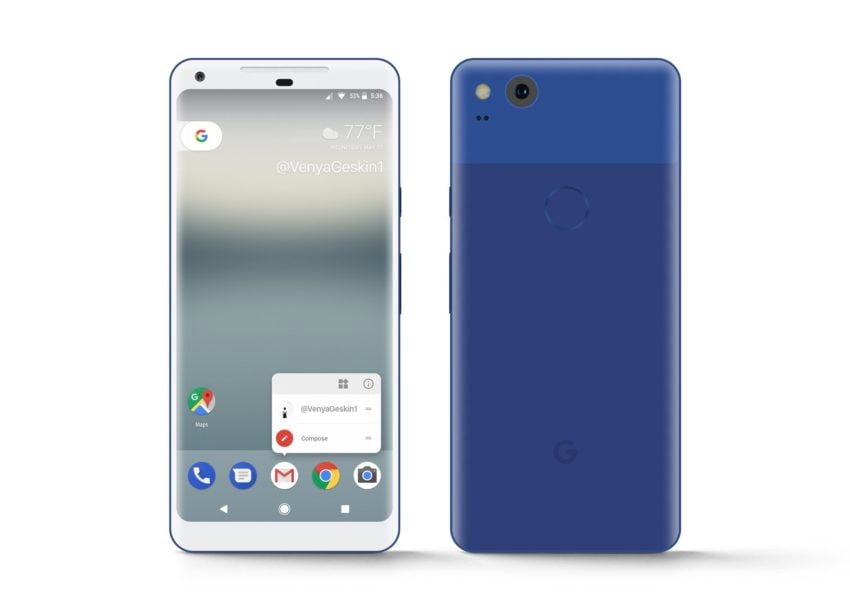 Android Police also states the big speaker grill on the top could double as stereo speakers. By using the bottom speaker for the lows and bass, with the front-facing grill as the main source of the sound. Something we've seen recently from Apple and HTC. Other leaks suggest dual front-facing speakers like past Nexus devices.
Other Google Pixel 2 Details
On top of having the latest and greatest 6-inch edge-to-edge display, powerful specs, water-resistance, tons of storage and an improved camera, Google will reportedly make some major software changes too.
We know the Pixel 2 will run the latest Android 8.0 software when it arrives, but considering this is the Google Pixel and not a "Nexus" device, it should come with extra software features.
According to XDA Developers Google has a few tricks up its sleeve for this release. Their sources indicate Google will add an always-on display to the new 2017 Pixel lineup. Allowing the phone to display useful information and notifications 24/7, even while the screen is off. A small portion will stay on at all times.
Additionally, Google is adding sensors to the sides of the aluminum unibody frame. This will allow for a "squeeze gesture" where users can simply squeeze the body of the phone to quickly launch the Google Assistant. We've seen something similar in the new HTC U11, and Google is looking to expand this ability to the Pixel 2 lineup. XDA states this will work even when the screen is off. Meaning users can squeeze the phone and ask the Google Assistant questions, get directions, make calls or even send a text message.
Furthermore, a new leak from the reliable @onleaks is giving us our first full 3D render of what could be the Pixel XL 2. The video was shared by MySmartPrice.
One thing to take away from this video is that it matches every other big leak thus far. Essentially confirming the bigger Pixel XL 2 design, slim bezels, and smaller glass panel on the back. Along with what appears to be a huge camera sensor and no 3.5mm headphone jack. Yes, it's missing in this render, suggesting Google will ditch the headphone jack.
Google Pixel 2 Release Date
The original Pixel and Pixel XL arrived on October 4th of 2016 with an October 20th release date a few weeks later. A similar date is when Google released their Nexus line of phones in earlier years. And thus, most reports and rumors believe Google will follow that pattern this year.
All we know is that earlier this year Google's head of the mobile hardware division confirmed a Pixel 2 is coming in 2017. He didn't go into further details, but just know that new phones are coming.
Based on everything we've seen from Google's Nexus and Pixel line, both the Google Pixel 2 and a bigger Pixel XL 2 (or Pixel Plus) will arrive sometime in October. Expect an early October announcement with a release date a few weeks later.
However, most believe Google will release its new Pixel phones along with Android 8.0 which should arrive before the end of September. If that's the case, the search giant could announce and release its new Pixel in September.
This makes sense for a few different reasons. For one, it resembles the release cycle from previous years. And secondly, Google will want to get a head start on the upcoming Galaxy Note 8 and new iPhone.
In closing, these photos and video give us our best look at what could be coming later this year from Google. In the coming weeks and months expect more information to surface and potentially real photos of the phones. For now, we'll just have to wait and see.