Google Pixel Phone Event: What You Need to Know
Google recently confirmed it will be hosting an event in San Francisco on October 4th to unveil its new Pixel Phones. After months of countless rumors and speculation we now know exactly when the Nexus brand will be replaced by the new Google Pixel. Here's everything potential buyers need to know, and the latest images of the new phone.
For years Google has released Nexus smartphones and tablets co-developed by popular manufacturers. For 2016 though, the company will be releasing it's very own smartphones to take on Samsung, Apple and more. On top of that the company could be making a major announcement.
Read: Google Pixel Phones: What We Know So Far
The teaser video for the Google Pixel Phone event doesn't reveal much. Simply transforming the Google Search bar into the shape of a tablet, and eventually a smartphone. We know these phones will be unveiled on October 4th at 9:00 AM. Those looking for more details regarding exactly what to expect will want to read on past the break.
https://www.youtube.com/watch?v=aNnCtmyujLA
Earlier this year we learned that Google was working on two new "Nexus" phones which were being made by HTC. However, that doesn't appear to be the case as these phones will be sold and marketed as completely made by Google. The company launched a new website madeby.google.com teasing exactly that.
The webpage doesn't confirm anything else, aside from maybe hinting at a stunning new camera on both Pixel Phones. And yes, there will be two aimed at taking on the iPhone 7 and Galaxy S7. Here's absolutely everything we know so far.
Google Pixel Phone Release
Nexus phones and tablets are probably a thing of the past. From here on out Google will be making and selling their very own devices. We've seen multiple leaks of these new phones, and last night received our best picture yet. Take a peek below.
On October 4th Google will formally unveil both of these phones, and potentially a lot more. In the past new hardware has arrived with Android updates, and these will be running the latest Android 7.0 Nougat, or even Android 7.0.1 Nougat.
While we don't have any information regarding an actual release date, once they're announced on October 4th they should be released within 2-3 weeks. Here's what we know about the event and the phones.
Andromeda
First things first, a major report broke this weekend that could spell huge changes at Google, for Android, and the Chrome OS. AndroidPolice claims that they have corroborating evidence that Google will merge Android and Chrome OS, which powers laptop comptuers and desktops. Or, at the very least, blend all of the most important aspects of the Chrome OS and desktop features into Android.
This is being called "Andromeda" or Andromeda OS, and could be first shown off or teased on October 4th. To add more fuel to that fire Senior VP of Android, Google Play, and Chrome's Hiroshi Lockheimer said this over the weekend.
We announced the 1st version of Android 8 years ago today. I have a feeling 8 years from now we'll be talking about Oct 4, 2016.

— Hiroshi Lockheimer (@lockheimer) September 24, 2016
His comment strongly suggests something major will be revealed on October 4th, along with the Pixel Phones. Something that big would have to redefine Android as a whole, or be an entirely new operating system completely.
The idea of merging Android and Chrome OS to be one unified and powerful operating system sounds great, and is nothing new. The Wall Street Journal actually said exactly that in October of 2015. They said it would be shown in late 2016, and released in 2017. A similar set of dates has been revealed by AndroidPolice, along with the first Andromeda device being a new Pixel 3 Laptop.
The implications here could be huge, and we'd recommend reading the entire AndroidPolice report. Android could turn into a powerful all-around operating system that's great for phones, even better on tablets like the Pixel C, and take on Apple and Windows all at once.
Google Pixel
AndroidPolice first reported Google's new Nexus phones would be rebranded to "Pixel" and they've been sharing additional details for months on end. According to their sources both the Pixel and Pixel XL will be identical in all areas, except three. Featuring the same premium all aluminum and glass design, same powerful specs inside and more. The only difference will be the screen size, battery, and price.
Google looks to be taking the same two-prong approach as Samsung and Apple. Releasing two top-tier flagship smartphones with plenty to offer. Rather than the smaller phone being a low or mid-range device with a wallet friendly price tag. In fact, AndroidPolice claims the smaller 5-inch Pixel will retail for $649 and the bigger Pixel XL will likely be $749.
With just a few days to go before Google's October 4th event, popular leakster @evleaks Evan Blass just shared the first official press photo. This is the Google Pixel with new icons, the Pixel Launcher, redesigned on-screen buttons, Google Assistant and more.
Pixel Phone Specs
Both the Pixel and Pixel XL will have a premium all metal and glass design, fingerprint scanners, excellent cameras, possibly dual speakers (since they're made by HTC) and a lot more. Above we can clearly see the Titanium Silver model. The odd color change is because half the back will be covered in glass. The glass back is used similarly to the Antenna lines on the iPhone, as metal doesn't transmit network connections, WiFi or Bluetooth very well. That said, here's the specs based on leaks and rumors.
Pixel Phone Specs (Rumored)
5-inch 1920 x 1080p Full HD AMOLED Display
New and Improved Quad-core Snapdragon 821 Processor with 4GB of RAM
32 or 128GB of storage with no microSD slot and no small 16GB model
Android 7.0 Nougat (or newer)
12 Megapixel rear camera with Optical Image stabilization, more
8 Megapixel front camera
Rear Mounted Fingerprint Scanner (glass back)
Dual Stereo Speakers (bottom and earpiece placement)
USB Type-C Port for Rapid Charging
2,770 mAh battery
Rumored to come in four color variants (Black, Silver, Gold & White)
more
Of course everything is subject to change, and we'll reserve judgement until October 4th when these phones are unveiled. From what we're seeing these look to be excellent new smartphones made and manufactured 100% by Google. We're hearing Verizon may have an exclusive to sell them, with unlocked models being sold on the Google Store.
Google's officially teaser video and website hint at a better camera than last year, which should prove to be on-par with the iPhone 7 and Galaxy S7 lineups. The Pixel Phones will run Android 7.1 Nougat. Yes Google already has the first Android 7.0 update ready to be released. There's no indication these will see Andromeda now or in 2017.
Google Pixel XL Phone
Next up is the bigger of the two phones, the Pixel XL. It will be the true flagship smartphone from Google in 2016 aiming to replace the popular Nexus 6P.
Pixel XL Specs (Rumored)
5.5-inch 2560 x 1440 Quad HD AMOLED Display
New and Improved Quad-core Snapdragon 821 Processor with 4GB of RAM
32 or 128GB of storage with no microSD slot, no 64GB option
Android 7.0 Nougat (or newer)
12 Megapixel rear camera with Optical Image stabilization, more
8 Megapixel front camera
Rear Mounted Fingerprint Scanner (glass back)
Dual Stereo Speakers (bottom and earpiece placement)
USB Type-C Port for Rapid Charging
3,450 mAh battery
Rumored to come in four color variants (Black, Silver, Gold & White)
more
The new Pixel XL will be very similar to the Nexus 6P, but slightly smaller and improved across the board. Having a smaller display but the latest most efficient processor and Android 7.0 Nougat along with the same size battery, means it could be Google's best smartphone to date.
Pixel Software
Google recently confirmed they'll be making some software changes and adding more unique features on Nexus phones. Rather than running stock Android. Below is a teaser of the new Pixel Launcher. There is no app drawer, the bottom navigation buttons will be different, and the Google Search bar has been replaced with a "G" button that pulls up Google Search.
If accurate, Google will be making quite a bit of small but possibly useful software tweaks. These phones will also run the new Google Assistant, which was shown off at Google IO. Bringing the power of Google search, computer learning and voice controls to smartphones like never before.
We don't know what all will be new and different inside the Pixel Phone version of Android 7.0 Nougat, but expect some big changes to make these devices stand out as something truly unique and different from other Nexus or Android phones.
Huawei 7-inch Tablet
The first Android device made completely by Google was the Pixel C tablet in 2015. All other Nexus tablets were made by ASUS, HTC and Samsung. And while we don't have any concrete details that Google will be unveiling a new Pixel tablet, rumors point to exactly that.
Google's Huawei-built 7-inch tablet, with 4GB RAM, on track for release before the end of the year.

— Evan Blass (@evleaks) September 5, 2016
Above is a tweet from famous leakster Evan Blass, suggesting Google has a new tablet in the works too. Huawei may be building it for the company, but it will be completely designed by Google. Well, that's what they want us to believe.
To take things even further, the official invite and teaser from Google strongly suggests a tablet too. Showing the Google Search bar morphing into a tablet, and eventually a smartphone. We could see a new tablet and two new Pixel phones on October 4th. Another report suggests the tablet may launch later this year, and could potentially be one of the first devices to run the new Andromeda OS.
Other Products
So what else could Google have planned for October 4th? If recent reports and rumors are accurate, a lot, actually. AndroidPolice and their highly accurate sources believe Google will unveil a slew of products.
Along with two new Pixel Phones and potentially a Pixel (or Nexus) tablet, we can expect to see a new 4K Google Chromecast Ultra. In addition to those the company could release Google Home, a new Google WiFi device and Daydream VR. Two of which were debuted at Google IO. Other rumors suggest Google is working on two new Android Wear smartwatches, which could be the Pixel Smartwatch.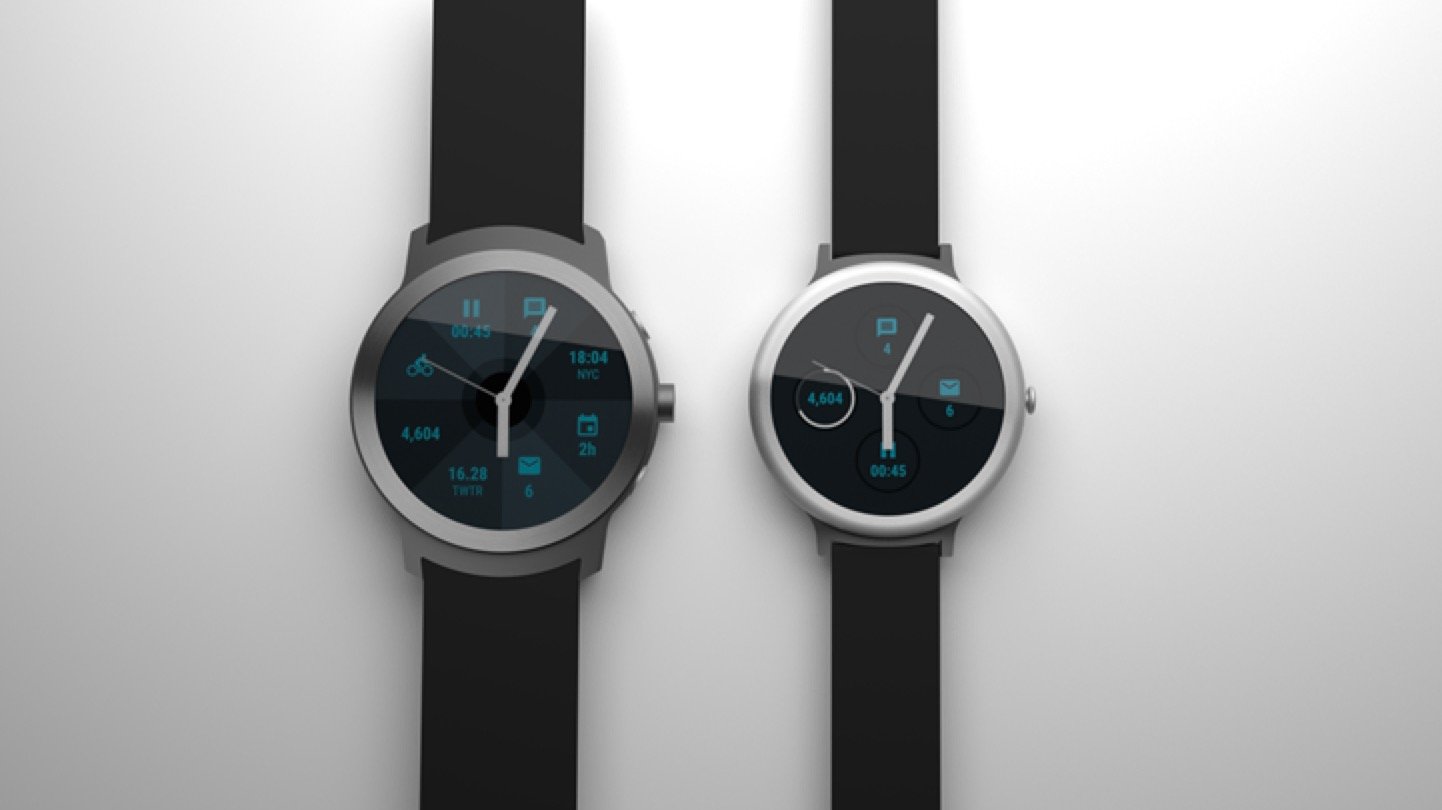 All of that comes together to be one huge event for Google. The invite and teaser photos and video that were recently revealed focus on the new Pixel Phones, but we could be seeing a lot more from Google come October 4th. Whether or not these are all released remains to be seen, but it will certainly be a busy month for Google, and even busier 2017. The company is also expected to make announcements regarding maintenance release (MR) software updates, which will arrive for Nexus devices and help Google improve Android 7.0 Nougat.
If Android and parts of Chrome OS do merge into what's for now being called Andromeda as a codename, things are about to change drastically. It could be a big announcement, and we'll have all the details.
Again, aside from the official teaser from Google and some leaked information and photos nothing has been confirmed. That being said, October 4th is almost here and all will be revealed.

As an Amazon Associate I earn from qualifying purchases.