Google Pixel Slate: Everything You Need to Know
Here's everything you need to know about Google's new Pixel Slate and when you can buy one. This device is Google's latest tablet and its vision for the future of Chrome OS. In a market dominated by the iPad Pro or Surface Pro 6, Google's Pixel Slate is an exciting new tablet computer with plenty to offer.
Whether that's the fancy 12.3-inch HD display, the backlight detachable keyboard, Pixelbook Pen, or access to millions of Android apps, Google's Pixel Slate is well positioned as an excellent tablet/PC experience. If you're interested in this new device here's the Pixel Slate release date, specs, features, price and more.
Pixel Slate is a powerful new tablet and laptop 2-in-1 running Chrome OS
Available now for pre-order, with an estimated November 22nd release date
The Pixel Slate starts at $599 and has an optional backlit keyboard cover and Pixel Pen
Optional upgrades push the price to $1,600 with a powerful Intel Core i7, 16GB RAM, 256 SSD
Now that we've gone over the basics and highlighted some key facts, here's everything else you'll want to know.
Pixel Slate Release Date & Pre-Orders
In a surprise turn of events, Google's Pixel Slate is available now for pre-order, with an estimated release date (and ship date) of November 22nd. That's from both the Google Store and Best Buy. Initially, the company said it'll arrive "later this year" but you can order it right now.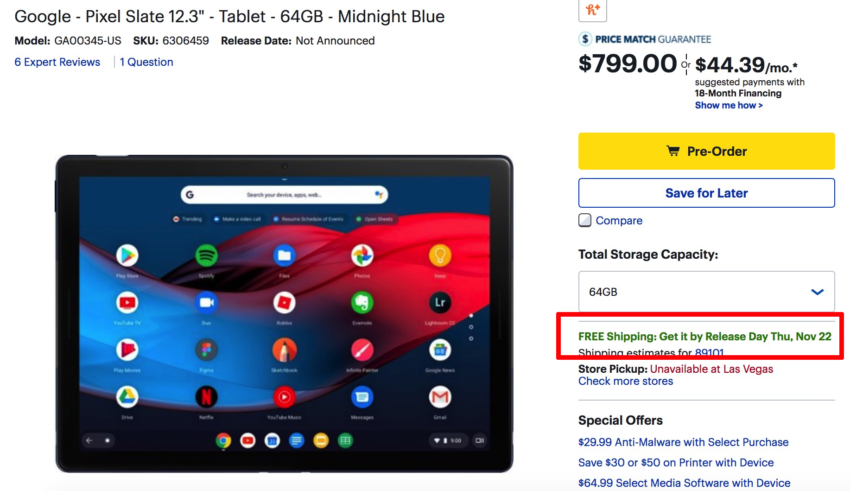 Soon you'll be able to buy one starting at $599 from the Google Play Store, partner retail stores, and anywhere Chromebooks are typically sold. For now, here are links to get the Slate and some accessories.
For what it's worth, Best Buy said it'll ship with a delivery on November 22nd, the release date. Google's own store says it'll ship in 2-3 weeks. These dates are subject to change.
Pixel Slate Specifications
If this device wants to replace your laptop or compete with the Surface Pro 6 it needs some serious power under the hood. Thankfully, Google offers a slew of options along with a base package starting at $599. Here's a quick and easy list of what to expect.
12.3-inch 3,000 x 2,000 Resolution Polycrystalline Silicon LCD Display (293 PPI)
Intel Celeron up to optional 8th-gen Intel Core i7
Between 4GB & 16GB of RAM choices
32GB to 256GB of internal SSD Storage
Chrome OS
8 MP Rear f/1.8 Pixel camera, 8MP f/1.9 aperture wide-angle front Google Duo cam
7mm thin and only 1.6 pounds (without keyboard)
Loud dual front-firing speakers
Wi-Fi, Bluetooth, Fingerprint Scanner power button
Battery: 48 watt-hour
Two USB-C ports, Pixel accessory connector (keyboard dock), 4K display output
Linux app support, more
"Google Pixel Slate is a completely new experience. It isn't a laptop trying to be a tablet, or a phone trying to be a computer,"  "or a tablet that's really a phone pretending to be a computer." — Trond Wuellner (Google)
In a quick jab at the iPad Pro, Google made sure to mention that the Pixel Slate runs an all-new version of  Chrome OS. Software designed from the ground-up for this type of experience vs something like iOS blown up on a tablet. Basically, this is Google's best tablet ever released, and the first one from the company in three years.
Pixel Slate Pricing & Specs Breakdown
To make things simple for potential buyers, here's a breakdown of what you'll get from the $599 model and the other options available from Google.
$599 (4GB RAM, 32GB SSD, 8th Gen Intel® Celeron processor)
$699 (8GB RAM, 64GB SSD, 8th Gen Intel® Celeron processor)
$799 (8GB RAM, 64GB SSD, 8th Gen Intel® CoreTM m3 processor)
$999 (8GB RAM, 128GB SSD, 8th Gen Intel® CoreTM i5 processor)
$1599 (16GB RAM, 256GB SSD, 8th Gen Intel® CoreTM i7 processor)
The internal hardware and specs aren't much of a surprise, nor is the display. They're essentially the exact same thing you'll find from the Microsoft Surface lineup, or even Dell's XPS 13 2-in-1. That's not a bad thing though, as you have more than enough options to find exactly what fits your needs.
It's the Pixel Slate's powerful and redesigned version of ChromeOS that may separate it from the competition. Delivering built-in virus protection, automatic instant updates, access to Android apps and Google's new Titan security chipset layer.
You'll likely want a Pixel Slate with a little more power than the base $599 model, plus the prices mentioned above do not include the optional folio Pixel Slate keyboard cover and pen. Here's a little more information on those for buyers.
The Pixel Slate Keyboard is $199 while the Slate Pen will run you $99. Expect a slew of 3rd party keyboards and accessories from popular manufacturers like Brydge, who offers an excellent keyboard that is hopefully more affordable than Google's.
Final Thoughts
So far Google's new Pixel Slate looks pretty great. It's the first tablet from the company in nearly three years, not to mention adds Linux app support and fingerprint authentication to Chrome OS. However, we'll have to wait for reviews and getting it ourselves before we say anything further.
Read: 17 Best Surface Pro 6 Alternatives
And while the backlit keyboard looks great we're not sure about those round keys that Google promises are extremely quiet.
Google's Pixel Slate is only listed in Midnight Blue, and you'll get three months of YouTube TV free with your purchase. As soon as we learn more or it's officially released we'll update this post with all the details.

As an Amazon Associate I earn from qualifying purchases.