Google Play Gift Cards Spotted, Coming Soon
Android fans will soon have to chance to buy gift cards for the Google Play Store.
According to Android Central, the gift cards are already made, Google just needs to distribute them to retailers. The gift cards are good for anything in the Google Play Store. That includes apps, music, movies, and potentially even devices like the Nexus 7 or unlocked Galaxy Nexus.
The images of the gift cards show both $10 and $25 cards, but nothing else. We don't know if these are the only choices available, or if these are just the ones Android Central was able to get ahold of.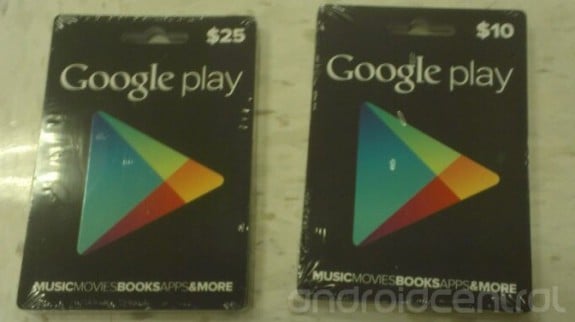 We also don't know which retailers these cards will appear in, but we assume they'd arrive in stores like Best Buy, Target, Radioshack, Walmart, and any other store that sells Android devices. We expect to see these cards next to iTunes gift cards sometime in the near future. Apple's gift cards are ubiquitous, and we imagine Google wants Google Play gift cards to have the same ubiquity.
With any luck, these new gift cards will make users more comfortable with buying apps on Android. With reports of rampant piracy among Android users, Android developers need some assurance that users are actually willing to pay for apps and games. We doubt gift cards alone will solve the problem, but they should help developers get some money as users buy their apps with the cards.
Or users might just continue to pirate apps and use these gift cards to buy movies and music. No matter how users spend the gift cards, Google needs to figure out how to educate consumers about the cards as an alternative to iTunes gift cards for Android users. That's may be one of the biggest challenges for Google and the Android system.

As an Amazon Associate I earn from qualifying purchases.