Google Revises Android Market Guidelines to Allow Better Promotion of Apps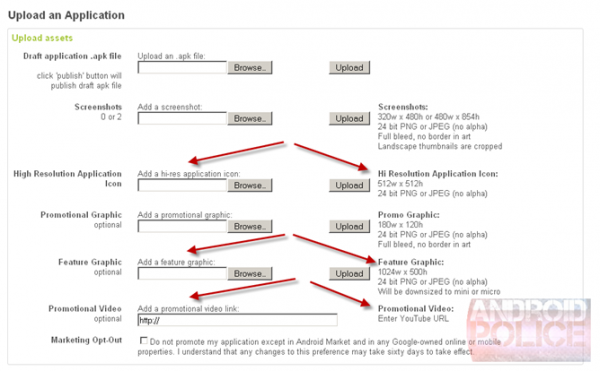 With a growing catalogue of apps available for download through Google's Android Market, the applications storefront for the Android platform, Google probably recognizes that a lot of good, quality applications may get lost and remain undiscovered in the process despite a consumer rating system to help weed out low quality or useless apps. That said, Google is set to roll out a revised Android Market and the company has published its guidelines to developers to guide them on how to better place and promote their apps on Android Market to give those apps maximum exposure and entice users to try out apps.
The new guidelines allow developers to place a high resolution photo to showcase their apps. Whether this is a preliminary and middle step to gearing up for a tablet version of Android Market is unclear, but developers can now provide a better photo in addition to providing a link to a YouTube video to demo their apps. Since Google owns both Android and YouTube, the company is leveraging both of its assets here. According to Android Police, these are the following changes to Android Market:
A "feature" graphic, landscape aspect ratio, 1024 x 500 (required).
A high-res icon, 512 x 512 (required).
2 screen shots, 320w x 480h, 480w x 854h, or 480w x 800h, increasing to 8 screen shots in the future (1 required).
A link for a promotional video hosted on YouTube (optional).
With the success of the iPhone credited to Apple's App Store and the rising competition to keep developers tied to a platform, Google's attempts will hopefully help developers monetize their work and keep them happy. Microsoft, with its recent launch of Windows Phone 7, is trying to lure developers over to its emerging platform, which is still new and has a lot of room for growth. In the coming year, there will be more entries into the smartphone space with Research in Motion poised to roll out its next-generation BlackBerry OS along with the QNX operating system found on the company's PlayBook tablet, HP and its webOS 2.0 environment, and Nokia and Intel with their jointly developed MeeGo operating system along with revamped efforts behind Symbian with the Qt development environment that should help developers code apps easily for both MeeGo and Symbian with little extra effort.

This article may contain affiliate links. Click here for more details.