Google+ Saves The Day With Auto Photo Uploads
If you're anything like me your smartphone is your camera. In the past 90 days I've taken over 1,000 photos on my iPhone and hundreds on my Galaxy Nexus and other Android Review phones.
A few years ago I wouldn't have cared much about these photos, partly because the cameras on phones were awful and also because I didn't have anything to keep pictures of past the random Facebook photo.
Now, with the incredible abilities of smartphone cameras and the addition of two puppies to our house I have new reasons to make sure my photos are backed up, especially the photos I keep on my phone; a small gadget that is incredibly easy to lose.
In this new commercial for Google+, Google shows how automatic uploads saved the day for a dad who goes overboard with photos of his first son, but loses his phone in a cab shortly after. Much to his surprise and delight, all of his photos were uploaded to Google+, so he didn't lose a moment of memories.
Google+ offers a free and worry free way to make sure the pictures you take with your Android smartphone are automatically uploaded to the Internet for safe keeping. Even if you never plug in your phone your photos can be backed up.
To automatically backup all the photos on your Android smartphone you'll need a gmail account and the free Google+ app. Both of these are free.
Install the Google+ app and make sure your automatic uploads are enabled. These photos will be private unless you choose to share them.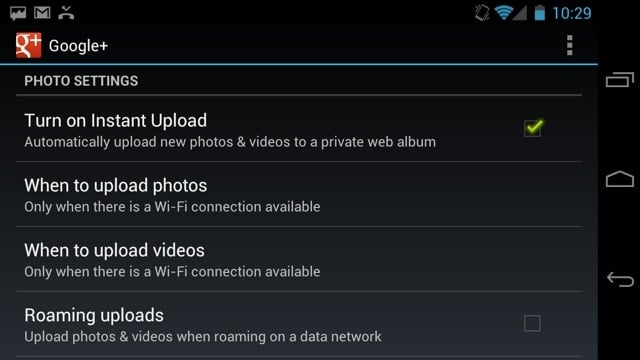 You must enable automatic uploads in order for this to work, and make sure you pay attention to the settings. Most users will want to delay uploads until they are connected to WiFi, but id you have unlimited data, or are on a trip you may want to allow uploads over your cellular connection.
You can enjoy unlimited uploads through Google+, including videos up to 15 minutes long. It is important to note that your photos will be automatically resized to a smaller resolution. They will still be sharp enough for sharing online and printing on a 5 x 7 or an 8 x 10, but not as large as the original.
If you use an iPhone, the free Photostream service will perform a similar service for photos, but it only keeps the last 1,000 online.
Has Google+ saved your butt when you lost a phone?

As an Amazon Associate I earn from qualifying purchases.