Google Shopper Update Brings Google Offers to the Table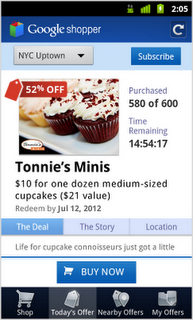 Looking for deals and discounts? Well, Google Shopper's latest update, available for Android smartphones via Android Market, brings Google Offers to budget-conscious shoppers. With Google Offers integration, Google Shopper will now display the latest discounts and deals, much like Groupon and LivingSocial.
Currently, though, the daily deals and 'offers' are available only to residents of the Portland, Oregon, San Francisco area and New York City. In the future, Google promises integration with Google Wallet, so perhaps NFC integration will also be built into the app for compatible phones.
In addition to daily deals, also integrated with Shopper is 'Nearby Offers,' which are special deals that local businesses have submitted for 'eat' and 'play,' representing offers in the dining and entertainment arenas.
The latest update brings the Google Shopper app to version 2.0. The app requires an Android handset running Android 2.1 or higher to work, and is available for upgrade or a free download through Android Market.
Via: Google

As an Amazon Associate I earn from qualifying purchases.