Google Street View Coming to Next Navigon iOS Update
Navigon announced at Mobile World Congress that it will be releasing new app updates to its turn-by-turn, voice guided navigation apps for Apple's iOS and Google's Android platform this spring. On iOS, Navigon will be brining Google Street View to the GPS navigation app, allowing Navigon iPhone and iPad owners to get street-level views of their destinations prior to starting a route. Additionally, on the Android side, Navigon will also be adding a number of new features, such as active lane assistant, a home screen widget, traffic check, and Bluetooth support.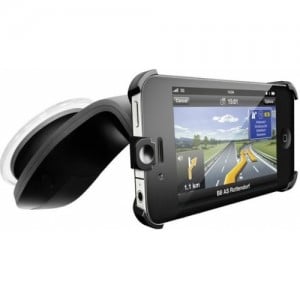 In addition to supporting iOS, Android, and Windows Phone, Navigon also announced that its app will also be available for the Bada platform as well as the Cisco Cius tablet.
Navigon did not give specifics about when the new app updates for iOS and Android will be hitting, but the new software updates are anticipated in the Spring.
Press release:
NAVIGON Apps to Get New Features, Become Available for New Platforms
Just a few weeks ago at Macworld | iWorld 2012, we launched new social features for the Garmin StreetPilot onDemand iPhone app. Today, at the Mobile World Congress in Barcelona, Spain, we announced new features for the NAVIGON smartphone apps. This includes a new Google Street View function for the iPhone version and an Active Lane Assistant for the Android app. Furthermore, theNAVIGON app will soon also be available for Samsung Bada phones and the Cisco Cius enterprise tablet.
Google Street View and Active Lane Assistant
Available later this spring, the new Google Street View feature for theNAVIGON iPhone app provides users a street-level image of their destination before starting a route, helping, for example, to identify a specific building upon arrival. NAVIGON Android user will be able to enjoy a whole range of new features that are included in an upcoming app update, such as the Active Lane Assistant, helping drivers prepare to make an upcoming exit or turn by providing an animated lane map complete with arrows and actual road geometry; a NAVIGON Widget that allows users to access certain functions of the app directly from the phone's home screen, searching for a point of interest nearby for example; Bluetooth support for voice announcements; and a Traffic Check function, an easy to read at-a-glance gauge graphic that appears after route calculation alerting drivers of traffic conditions.
Soon also available for Bada and the Cisco Cius tablet
The NAVIGON app will soon also be available for Samsung's operating system Bada. It will run on the Samsung Wave 3 and is planned to launch this summer in Europe, North America and Australia/New Zealand. Included are premium navigation features such as spoken turn-by-turn directions, real-time traffic rerouting, lane guidance and multiple route options. Available in the Samsung app store, the North America and Australia/New Zealand versions will sell for $49.95 and the European version for 49.95 euros.
In partnership with Cisco, users of the Cius business tablet will shortly be able to download the NAVIGON navigation app from the market place Cisco AppHQ. The onboard app saves the maps on the device, so navigation will work entirely without a data connection. TheNAVIGON app will roll out in the U.S. first and later become available in Europe, Australia, Japan and China.
Find details about Garmin's other smartphone apps for a wide variety of activities at https://garmin.com/apps