Google Street View Updated with High Resolution Panoramic Images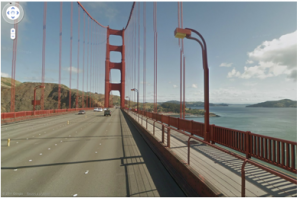 Google has updated Street View for Google Maps, which allows users to have access to high resolution panoramic images. Now, rather than sitting there with your Android phone trying to decipher where your location is, you can actually immerse yourself into the maps and explore your surroundings.
According to Google, 'New imagery is now available for 13 of our established Street View countries: Denmark, Ireland, Italy, Spain, Netherlands, Norway, Sweden, Romania, South Africa, Taiwan, Japan, the United States, and the United Kingdom.'
The update brings street-level high resolution panoramic views to locations in the San Francisco Bay Area, Los Angeles, and San Diego, California. Visitors can now have great views of landmarks and popular destinations like the Golden Gate Bridge, Staples Center, and the USS Midway.
So if you're half-way across the world and want to imagine walking across the Golden Gate Bridge, you can with the latest update to Street View.
Street View is available as part of Google Maps, which is a free download (or update) on your Android smartphone via Android Market.
Via: Google