Google Page Confirms Google Play Gift Cards, Users Can't Use Them Yet
Google's rumored Google Play gift cards are real, the company just isn't talking about the cards just yet, it seems.
While Google hasn't made an official announcement for the gift cards, it does have an official Google Play gift card web page which gives a few details about the cards. The top of the page proclaims "Google Play gift cards are on their way to retail stores near you. They may not have arrived yet, so please call ahead to check availability."
According to the page, Google Play gift cards will soon arrive in RadioShack, Target, and Best Buy. The initial launch is U.S. only. Droid-Life says the cards are already in at least one Target store, so the cards are, in fact, on their way to stores as we speak.
Update: Google has officially announced the gift cards on Google+, users can now redeem the cards.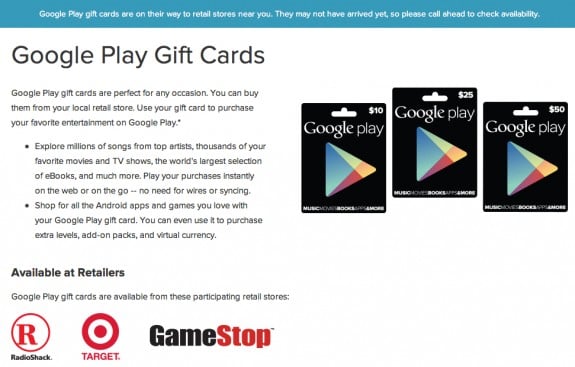 The Google Play gift cards come in $10, $25, and $50 variations, and users can only use them for apps, music, movies, and books. The cards will not work for "app subscriptions, magazine subscriptions, or hardware and accessory purchases."
The Google support page for the gift cards explains how users can redeem the cards. The page says users can tap the menu button on their device and select "redeem" to input the code on their devices, though we can't see the option on either the Samsung Galaxy S III or Samsung Galaxy Note 10.1. We assume a Google Play update will bring the menu option.
Users can also redeem codes online at play.google.com/redeem, but the link doesn't work yet.
So, while Google has the official support pages for the Google Play gift cards up, and the cards are already in some stores, users have to wait to redeem the cards. We expect an official announcement onGoogle Play gift cards from Google soon.

This article may contain affiliate links. Click here for more details.