Google to Sell Head Mounted Computing Devices By End of Year
According to a report from the New York Times, Google is on track to selling their head-mounted Android computing devices by the end of the year for the price tag of $250-$600. Rumors of a secret project surrounding the Google heads-up display (HUD) have been circulating in recent weeks, and it is believed that the final project will bring an aspect of augmented reality to the mix.
The concept seems similar to what Motorola–not the mobility arm of Motorola that Google is acquiring–was demoing at the Consumer Electronics Show. That model had a monitor that sits just below eye level, is activated by voice and controlled using head movements, and comes tethered to a 4G LTE signal through Verizon's MiFi mobile hotspot unit that's worn on the belt.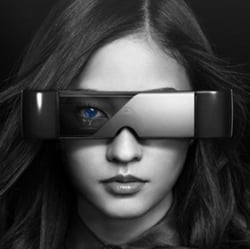 However, the difference is that Google's model appears to be similar to a pair of old Oakley sunglasses with integrated MP3 functionality. According to an earlier report, it means that one lens of the glasses would be completely covered–meaning you can't see through it, unlike the Motorola solution–so Google may add a camera to provide augmented reality capabilities to its own hardware to give users view of the physical world and overlaying information on top of what they may see. According to the Times, "The glasses are not designed to be worn constantly — although Google expects some of the nerdiest users will wear them a lot — but will be more like smartphones, used when needed."
The Google HUD solution would also be based on Android and will come with wireless:
The people familiar with the Google glasses said they would be Android-based, and will include a small screen that will sit a few inches from someone's eye. They will also have a 3G or 4G data connection and a number of sensors including motion and GPS.
 The glasses are also said to be more integrated with
location
functions, including check-ins.

As an Amazon Associate I earn from qualifying purchases.