Google to Stop Selling Nexus One Online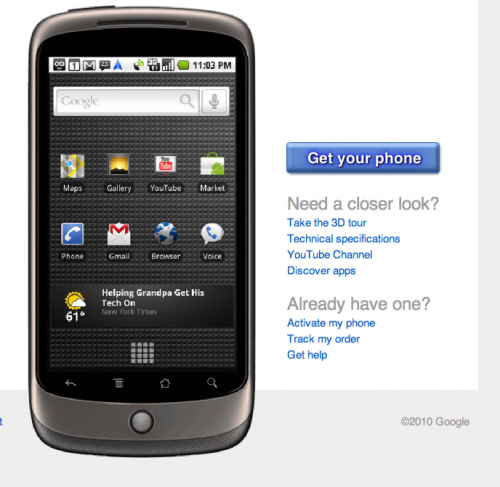 Google announced that it will soon stop selling the Nexus One online and will work with wireless carriers to offer a better buying experience. Uber-geeks might be willing to purchase expensive smartphones sight unseen, but most people want to try a phone out before using it. It's an important choice and something phone buyers have to live with for at least a year or two.
Google's Andy Rubin, who heads up Android engineering said:
But, as with every innovation, some parts worked better than others. While the global adoption of the Android platform has exceeded our expectations, the web store has not. It's remained a niche channel for early adopters, but it's clear that many customers like a hands-on experience before buying a phone, and they also want a wide range of service plans to chose from.

So today we're announcing the following changes:

More retail availability. As we make Nexus One available in more countries we'll follow the same model we've adopted in Europe, where we're working with partners to offer Nexus One to consumers through existing retail channels. We'll shift to a similar model globally.
I think this is a smart move by Google. If the Nexus One was at the T-Mobile store a few months ago I would've bought one. Things might be different if the Nexus One was the only Android powered phone, but there are plenty of alternatives buyers can check out at their neighborhood phone store.

As an Amazon Associate I earn from qualifying purchases.