Google Translate for Android Works Offline In 50 Languages
Today Google announced that Google Translate for Android will now offer offline packs for up to fifty languages so users no longer have to worry about Internet access for translation.
The free Google Translate for Android app offer offline language packs for languages such a French, Spanish, Arabic and Chinese among many others. Users will have to select the languages they want to download onto the device. To save space on user's phones the app doesn't automatically download any language packs.
The language packs will let users translate words or phrases between two of the installed languages no matter where they are or what data connections they have.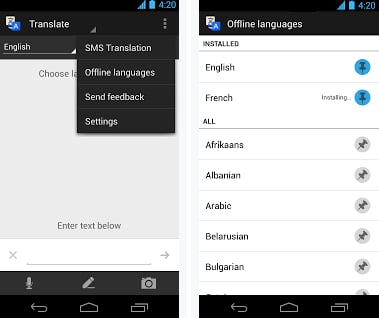 Users can choose to type phrases they want to translate, dictate phrases or take a photo of the phrase they want to translate. The app can display the translated words or phrases on-screen of speak the translation. The latter is helpful in foreign countries where users don't know the language well enough.
Google Translate supports more than 60 languages, which means more than 10 languages don't have language packs, though the packs available should suffice for most users.
The Google Translate app is free and available to all Android users, and all users running Android 2.3 or above can download language packs so even older phones can benefit from the new feature.
The app update also adds support for translating vertical Chinese, Japanese and Korean text from the camera.
The upcoming Samsung Galaxy S4 will include Samsung's own S Translate app which may mean fewer people will need Google Translate, though Samsung's app doesn't support offline mode. Google's app will help users save money on data, and will work in places with no data connection, like in an underground subway or while traveling overseas without a data connection.
Unfortunately, Google doesn't offer offline language packs to iOS users. Google Translate is free on the iPhone, but won't work without a data connection.