Google VP on Possible Chrome for Android Features
Google recently released a beta version of Google Chrome for Android into the Android Market to much rejoicing. Despite the beta tag on the browser many found it good enough to be the main browser on their Ice Cream Sandwich devices.
Today CNet published an interview with Google Senior Vice President Sundar Pichai which discussed Chrome for Android and some features that the team is working on. Pichai was quick to mention that users sent mostly positive feedback, though there some minor feature requests.
The two biggest feature requests were for the ability to see the desktop versions of websites and full screen. Both are features that make sense for a mobile browser, especially one that's based on a desktop browser. Pichai understood both requests, and said they may take some time to be implemented. He said that the team "just want to do them correctly and well."
(Related: Chrome for Android Hands On Video And Impressions)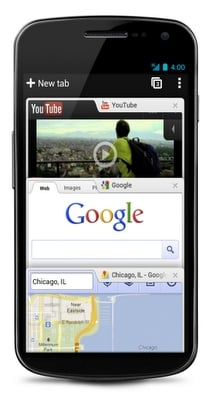 The other question Pichai said he receives is Adobe Flash support. To that he said it won't be a major issue as Adobe plans to move ahead with more HTML5 options for mobile. It might not seem like the answer some users want to hear at the moment, but it just doesn't make sense for Google to spend time supporting mobile Flash which Adobe isn't even working on anymore.
Pichai also mentioned that Chrome for Android will definitely come to more countries soon. There's no mention of it coming to other versions of Android, however. If you don't have a Galaxy Nexus or any of the Android 4.0 tablet you'll have to wait for your phone to be upgraded to the latest version of Android.
It's a great way for Google to get users to bug manufacturers about upgrading. Although it's doubtful that users asking about their ability to use a new browser will push manufacturers like Motorola to hurry their upgrades.
(Read: Android 4.0 Update List – Which Phones Will Get Ice Cream Sandwich?)

As an Amazon Associate I earn from qualifying purchases.