Google Wallet Card Tipped by Google
A Google support page briefly made mention of the upcoming Google Wallet card today according to a TechCrunch report.
The support page no longer makes any mention of the Google Wallet card, but a screenshot shows the term used twice on the page. The Google Wallet Card was recently leaked as part of the next big update to the Google Wallet service.
According to the previous leak the Google Wallet card is a credit card that links up to a Google Wallet account. The Google Wallet card will likely work at any location that accepts credit cards. Swiping the card will charge the credit card a user sets as the default in Google Wallet, or the user can choose which card to use in the Google Wallet app. This allows users to carry one card that acts as many cards.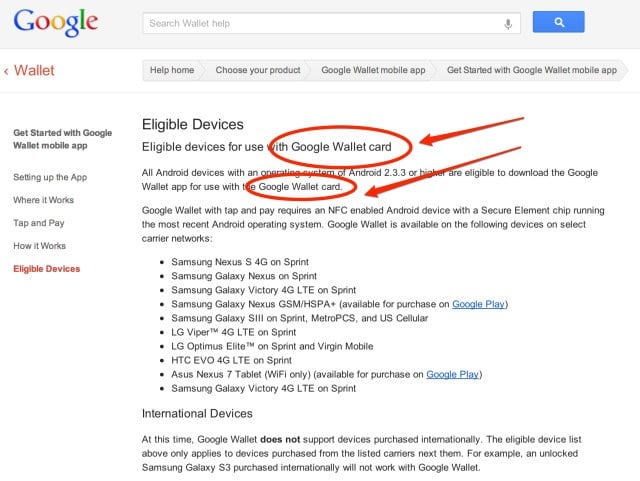 The support page for the card says the app will work on any Android device running Android 2.3.3 or higher, no NFC required. It makes no mention of any other OS.
The Google Wallet card will bring the service to Android users who don't have a supported device. Despite the prevalence of NFC only a few phones on a few carriers support Google Wallet. The Google Wallet Card will get around that by not requiring NFC.
The Google Wallet card could also be how Google plans to bring iPhone users into the service. Apple doesn't include NFC in any iPhone model, so iPhone users will need another way to use the service. Google's original plan was to use NFC stickers, but the company hasn't mentioned anything about that plan since the original launch of Google Wallet.
It's not clear when Google will bring the new Google Wallet app and Google Wallet card to users. Those who want to use the card can sign up for the next version of the service on the Google Wallet website.

As an Amazon Associate I earn from qualifying purchases.